Almost a month ago
, I was wondering what my tree needed to start blooming. Was it merely waiting for more sunlight and less snow? The answer seemed to come after one rare March day of sunshine and non-freezing temperatures, when I saw the first signs of change in the buds on my tree. Springwinter returned (it's a Boston season: spring on the calendar; winter outside) and I concluded that the blossoming would most likely be
slow and steady
. Then it snowed again. And seemingly miraculously, the buds looked further along
the next day
. Then we had clouds, wind and rain, and
they continued to bloom
. And now, the last four days have been crazy warm and sunny (70 degrees yesterday!) and I'm wondering what effect this has had on the buds.
So here's how the buds on one branch looked on April 5th, a full week ago, still in the midst of 40 degree, cloudy days.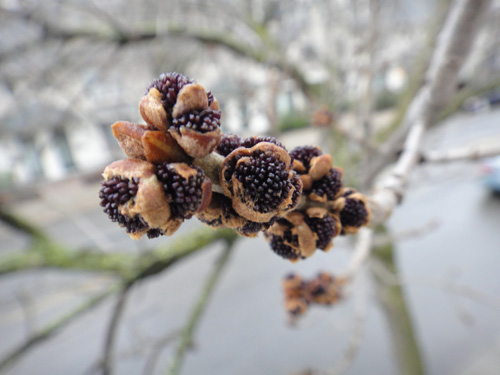 Here are the buds from the same branch on April 9th, halfway into our mini heat wave.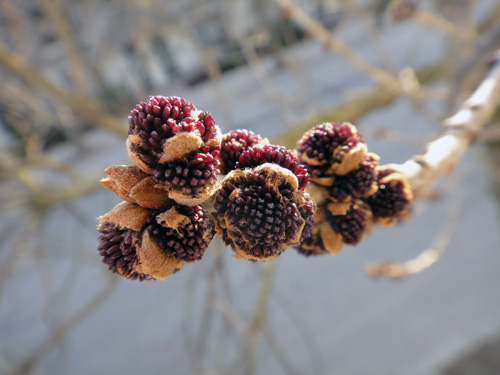 And here's how they looked yesterday, after four days drinking in the sun and warmth of spring.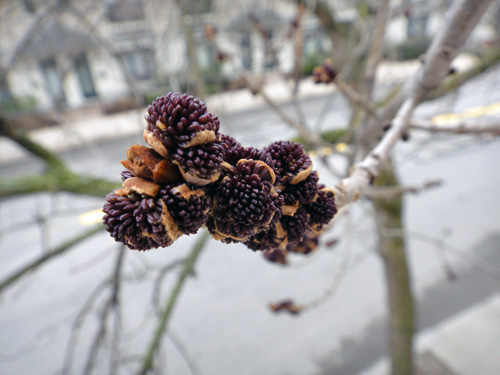 This is a dramatic change in one week. The brown is almost entirely gone. I feel like last week they looked like brown buds with some purple stuff coming out, whereas they now look like bundles of purple flowers bound together with some brown paper. Like a bouquet you might buy in the store.
Here's another branch on April 5th: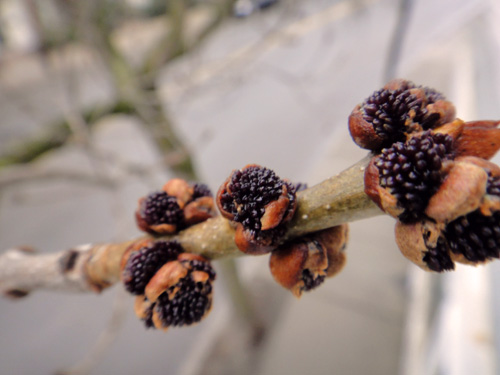 And yesterday, April 11th: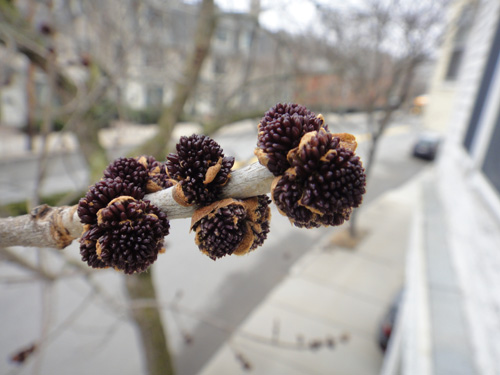 What a week for that twig, huh?!
So was all this progress due to the weather? Or was this just the natural progression of the process that started way back on the first day of spring? Was it progressing more slowly until the weather warmed up or is the beginning just slower than this part?
I don't know if what I've observed is enough to answer these questions. But I have heard of "forcing" plants and flowers. As far as I know, it's a way of encouraging or tricking the plant to open up and start blooming earlier than it would normally. I think one way of forcing a plant is to give it some of the weather conditions it needs to get started growing again. So perhaps this great week of growth wasn't merely programmed in from the start. Perhaps the weather had the same effect on these buds that it did on most Bostonians this last week: the warmth on our faces and sunshine on our backs managed to coax us, once and for all, out of our winter havens and our weather skepticism. It's okay to come out now. Spring has truly arrived.