It's warm today (45 degrees F) and it's sunny. I think to myself,
what is my tree waiting for?
More light. Check. Higher temperatures. Check. So, let's go take a look.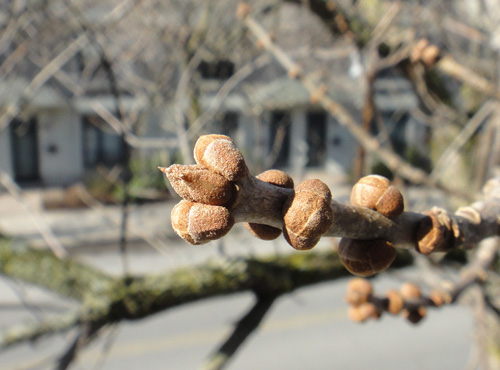 Those buds are definitely bigger! I've been checking every day, but maybe it's like a child growing up before your eyes: you just don't notice the subtle changes. Today, in the sunlight, the buds look like they're almost swollen.
Are they just waiting to burst?!
At the very tip of the twig closest to the window, I see this.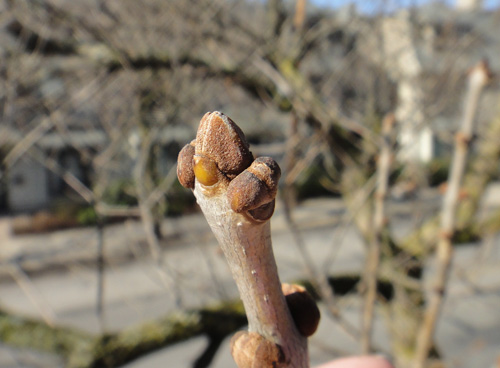 Doesn't the top bud look like it's about to crack open?
It's got sort of a plus (+) shaped ridge on the tip like a phillips head screwdriver. And that little nail looking thing in front of the bud looks different than the rest of the bud and twig. It looks smooth and shiny, not dried and rough.
Could that be something growing?!
A little look back in the blog reveals that this was here
two weeks ago
, but I hadn't noticed it then.
Could it be lighter now? Larger?
I'm not sure.
Here's another tip on an offshoot from my twig.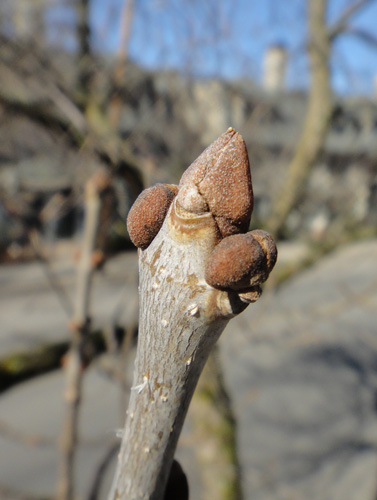 This one has that little nail thing too, although it looks more like the rest of the bud. Looking at it up close like this, it looks like the bud is breaking through the tip of the twig, doesn't it? I hadn't really thought about how the buds were attached, but this looks like it's pushed it's way out and that little nail thing is something leftover from when the tip was closed or maybe covered with a smaller bud.
Hey, that's a good question: are these buds getting longer?
I've actually been looking for the pointiness of the buds to go away. My thinking was that they would start to open and so the point would go away. But I haven't seen things getting less pointy. In fact, it might just be that the buds are getting more pointy.
Could they be looking more pointy because they are growing taller out of the tip of the branch?
I feel like something could be about to happen! It's St. Patrick's Day today and we're all wearing green.
How long until the tree will also be wearing green?