It's Saturday and you know what that means on the tree blog: story time.
Today we're reading
Planting the Trees of Kenya
by Claire Nivola. This is the story of Wangari Maathai, environmental and political activist, founder of the Green Belt Movement in Kenya and winner of the Nobel Peace Prize in 2004 (the first African woman to ever win the prize).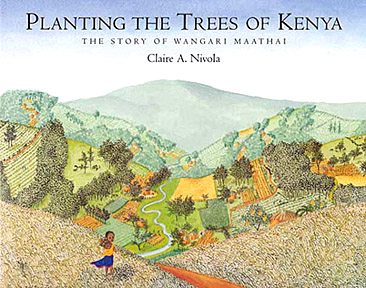 The story begins with the beautiful picture on the cover: "As Wangari Matthaai tells it, when she was growing up on a farm in the hills of central Kenya, the earth was clothed in its dress of green."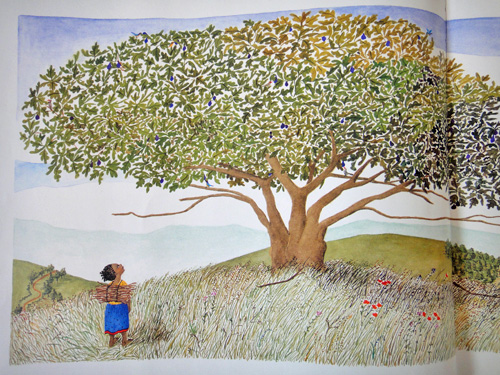 "The fig tree was sacred then."
She went to study Biology in America. (She came to America through the same program that helped President Barack Obama's father come to America.)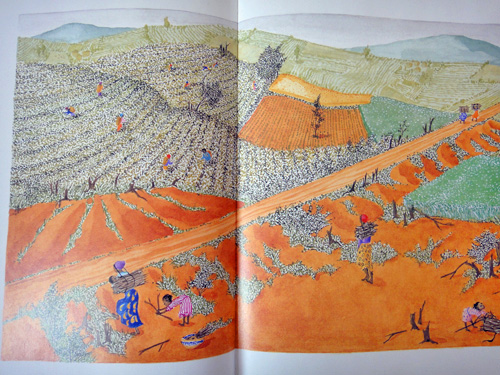 But when she returned, things had changed. "Wangari found the fig tree cut down....Where once there had been little farms growing what each family needed...now almost all the farms were growing crops to sell....She saw that where once there had been richly wooded hills with grazing cows and goats, now the land was almost treeless....Without trees there were no roots to hold the soil in place....Rain washed the loose earth into the once-clear streams....'We have no clean drinking water,' the women of the countryside complained."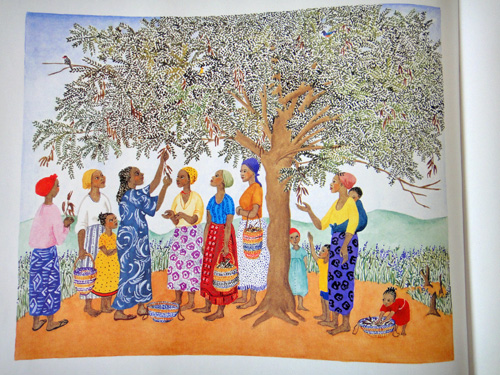 "Wangari was not one to complain. She wanted to do something....'When we see we are a part of the problem,' she said, 'we can become part of the solution.'" She taught the women how to find tree seeds and plant them, "growing seedlings, as if they were babies."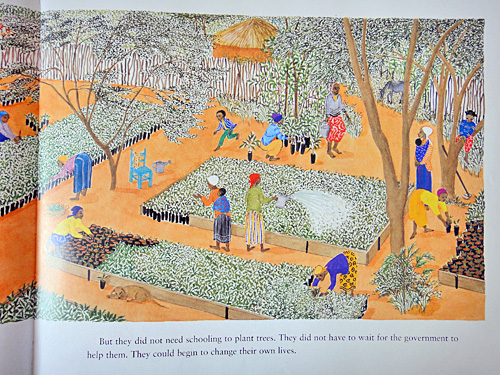 They planted trees. Millions of them. "Wangari gave seedlings to the schools....She gave seedlings to inmates of prisons and even to soldiers. 'You hold your gun,' she told the soldiers, 'but what are you protecting?'"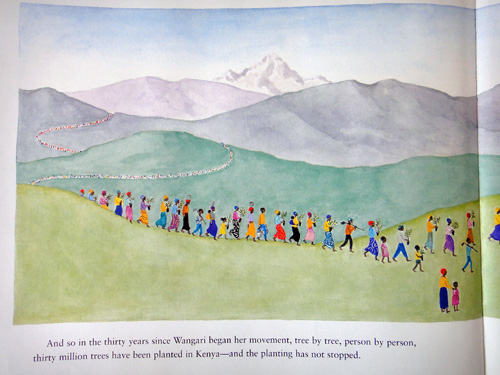 "'When the soil is exposed,' Wangari tells us, 'it is crying out for help, it is naked and needs to be clothed in its dress....It needs its cloth of green.'"
Wangari's message is: "Remember what millions of hands can do." And millions of trees.
You can learn more about Wangari Maathai and find the text and video of her Nobel Prize lecture at
nobelprize.org
. Another excellent resource is a series of podcasts from Public Radio International's "Living on Earth," which aired in 2005 and profiled Maathai and the Green Belt Movement:
part 1
,
part 2
,
part 3
.