Ready for a story? Today's book is
Leaves
by David Ezra Stein.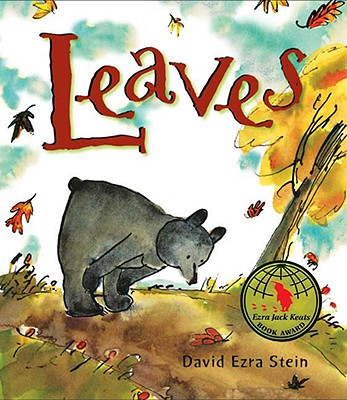 Leaves
tells the story of a little bear who sees the autumn leaves fall for the very first time. It's a sweet portrayal of a (bear) child's perspective on the mystery of the changing seasons.
The story is told in simple sentences and simple pictures, giving us an authentic sense of a child's thoughts and experience.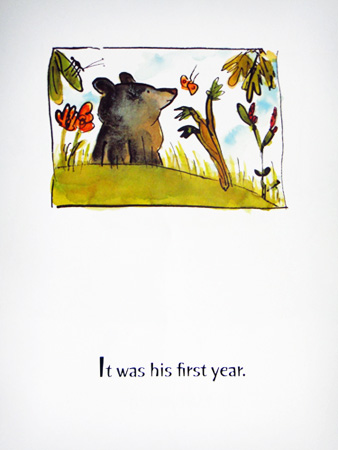 The little bear is happy. He runs through the grass and plays among the flowers. And all is right in his world, until...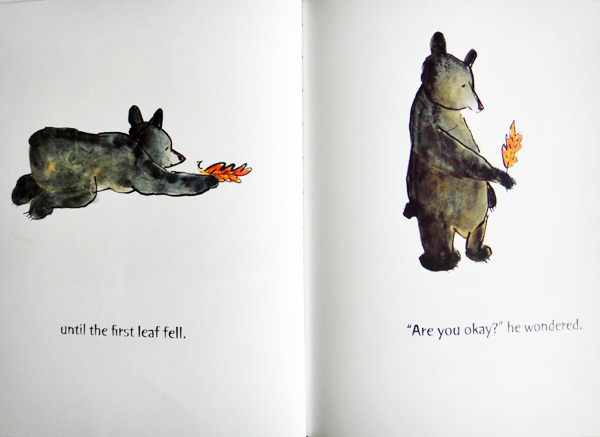 "Are you okay?"
Aww, he's worried about the leaves. Look at his little concerned face! At first, he tries to catch the leaves and put them back on the trees...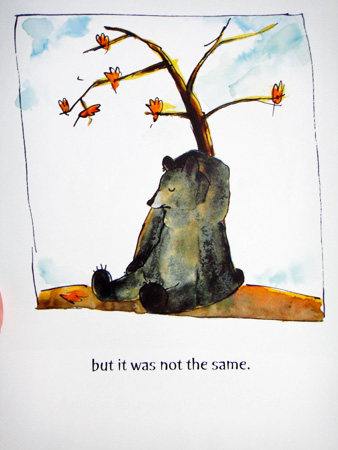 He watches them fall all around him and we see him cock his head to the side in confusion. But at the same time, he starts to feel very tired. So without much more introspection...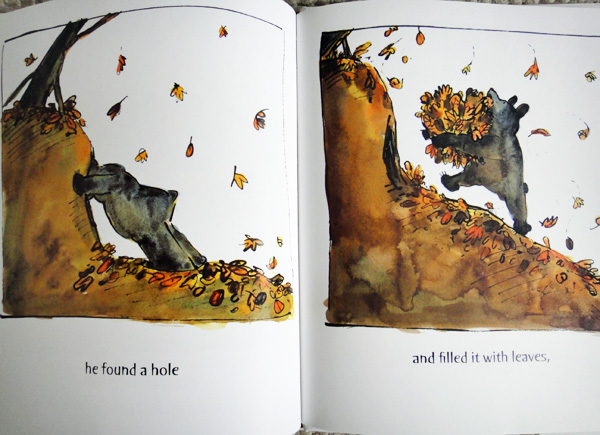 ...and he went to sleep. How very kid-like.
We see winter come and go outside his cozy hole. He remains unaware of the snow falling or the gradual return of the light.
Finally, after his long sleep, he comes out of his hole...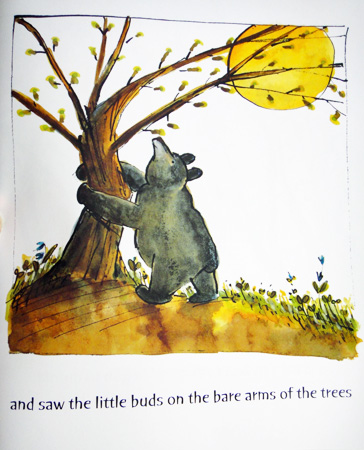 ...and is welcomed to spring by the new green buds. He gives the tree a big bear hug and then jumps for joy at the return of the the leaves and the flowers and the world he knew before.
This book is so sweet, I just want to hug it! It shows how special a child's first experience of something can be and what joy the return of something familiar and cherished can bring. Another of Stein's books,
Pouch!
, tells a similar story of a baby kangaroo, who takes his first hops away from his mother's pouch. These are special experiences and he turns them into special stories for young children.
Check out
Stein's website
for a free downloadable postcard of little bear and the leaves and a look at how he made
Pouch!
. And don't miss his hilarious Caldecott Honor book,
Interrupting Chicken
.