Now that we've checked in on
my ash tree
and on
the chestnut down the street
, let's see what the kooky honey locusts have been up to.
Last time
, I was starting to get confused/frustrated that I had yet to see any fruit on the honey locusts. I was eager to see if they had started to develop fruit after our month-long vacation.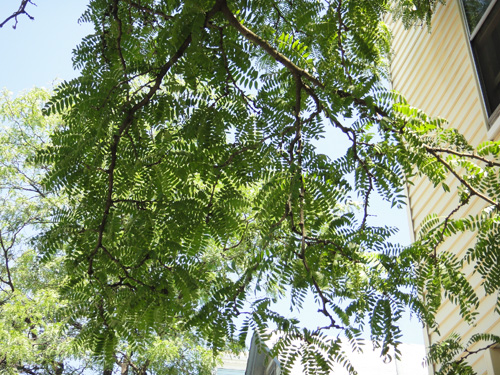 Um, no. That's the honey locust right next to my tree. Still no fruit. Seriously? None? Ever hopeful, I kept walking to check out some other honey locusts elsewhere in the neighborhood. Maybe, just maybe, I thought, the honey locusts are
dioecious
like ash trees and have completely male and completely female trees. So this might just be a boy tree like my ash. Maybe.
We walked on toward the kids' school. Every fall, right at the beginning of the school year, we find seedpods galore all around here. My son even brought one in to kindergarten years ago for show and tell. (True story: Not knowing ANYTHING about trees, I had no idea what it was. I had to search on the internet to figure out that it was a seed pod. I never did figure out what kind of tree it was from. Now I know though!) So, I figured if there was going to be fruit growing on any honey locusts around the neighborhood, it was going to be here!
Result! Seed pods! And man, are they long already. I can hardly believe it. I hadn't spotted any real signs of fruit growing on the honey locusts before we left. So it did all that in one month. Cool!
Farther down the street I saw more seed pods on a honey locust I'd photographed before. In May, I'd spotted a birdie perched up among the creepy, jagged branches.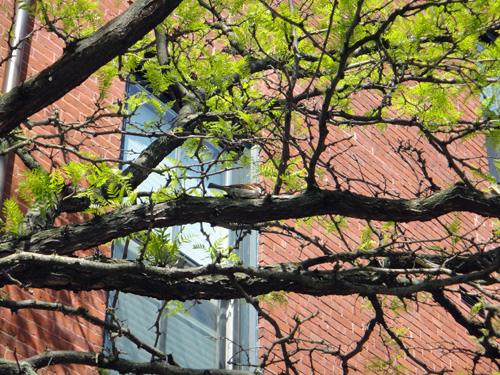 Now, the branch looks like this.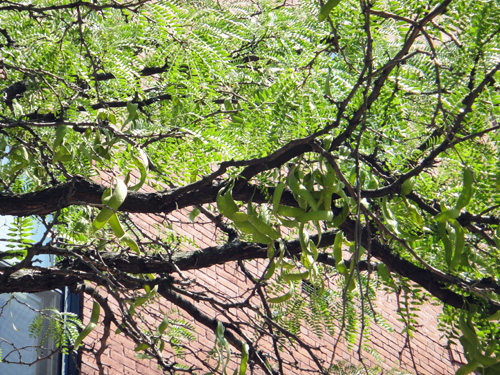 I love the way the seed pods hang down like little green bats. They're so thin and flat though. They make me think of Flat Stanley. Flat bananas for Flat Stanley.

Yeah, honey locusts are still weird.