This Saturday's storybook is
Poetrees
by Douglas Florian. I love Florian's many books of poems and drawings for children! They are usually themed around a type of animal (like his
Insectlopedia
and
Dinothesaurus
) and contain brief, witty and often insightful poems accompanied by colorful and evocative paintings. I wondered if Florian had ever done a book on trees, so I looked online and, sure enough, he did, just last year!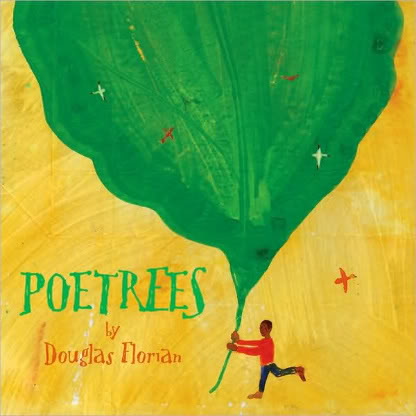 Florian has designed this book to be read vertically. The cover actually opens up to reveal his painting for
a poem on leaves
.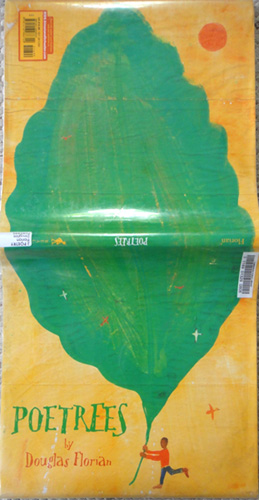 All the poems inside are arranged on the page this way. Trees, Florian seems to be saying, cannot be depicted in the standard horizontal format. I agree. His long, vertical paintings give his trees the sense of height that is such a huge part of our actual experience of trees. One beautiful example is on the table of contents page.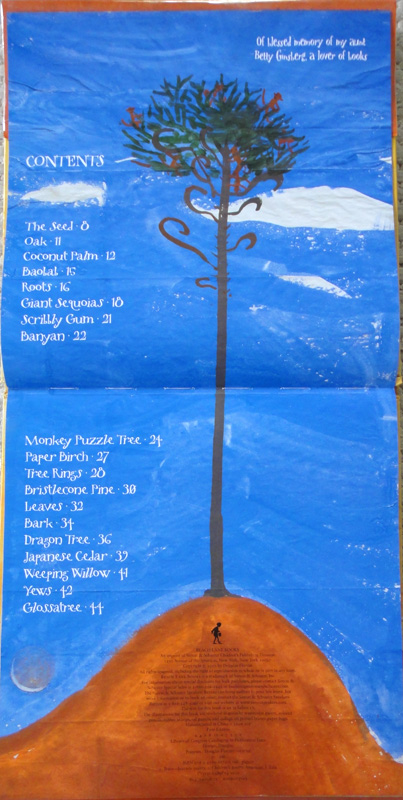 Florian often uses a lot of fun word play in his poems that kids enjoy. This book is no exception. Almost every poem contains a joke or tree pun, which he sometimes emphasizes in bold or italics. Here is a cute example from the inside book cover.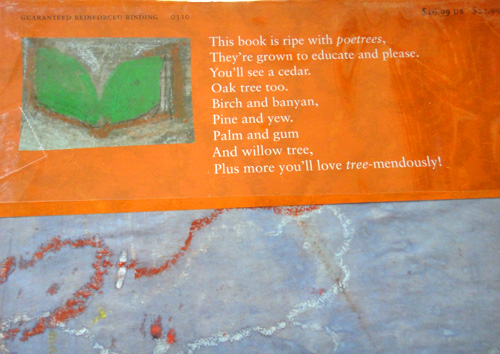 Look for the word play in the following poems! The first two recall trees we saw
last week
when we read
Celebritrees
.
There's a Giant Sequoia.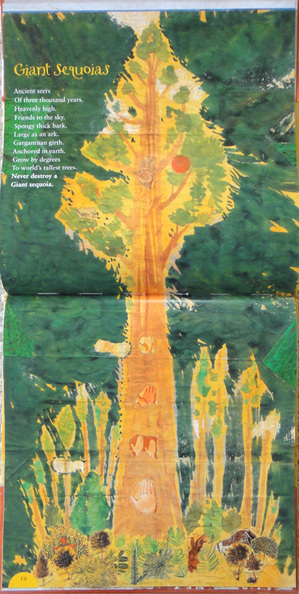 "Never destroy a / Giant sequoia."
There's also a Bristlecone Pine, like Methuselah, the world's oldest tree.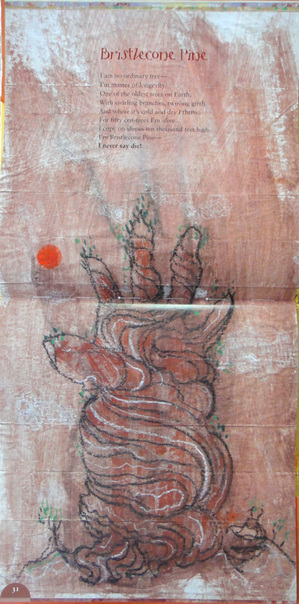 "Yews are spooky; gloomy too. / Yew've got one behind yew-- / Boo!"
I love the glowing colors around the sequoia and the squiggly lines that define the pine and the yew. They reveal the vitality and movement in trees that we tend to overlook. On
his website
, Florian describes his own work in terms that could also refer to this secret aspect of trees: "My drawings are movingly still, but still moving."
More than just fun, his poems always cleverly convey some real information about their subjects. This book even contains a "glossa-tree" (glossary) at the end with more tree facts.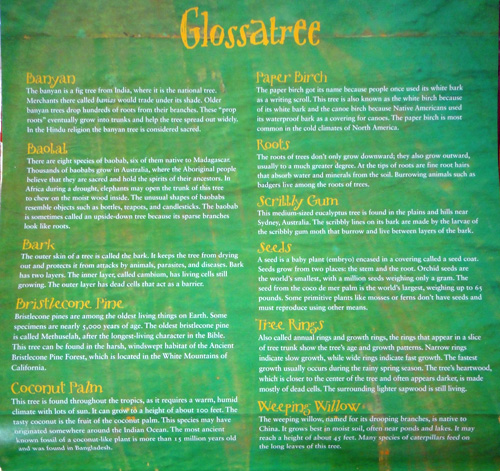 Check out a couple more poems from the book on Florian's blog:
Paper Birch
and
Dragon Tree
. And then check out some more of his books. They're tree-mendous!