Good morning! It's a beautiful sunny day here in Brookline and every tree I can see from my window is covered in green leaves! It's a perfect day to celebrate trees with a story. Today we'll read about some famous trees in
Celebritrees: Historic and Famous Trees of the World
by Margi Preus.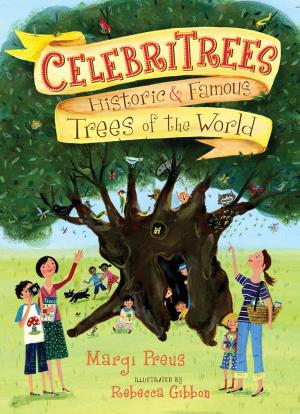 Celebritrees
is a cute book about famous trees from all over the world (and beyond!). It starts with a little introduction: "Trees are the oldest, biggest, and tallest living organisms on earth.... Here are fourteen Celebritrees, trees so beloved they have earned names for themselves.... Each tree has a story to tell."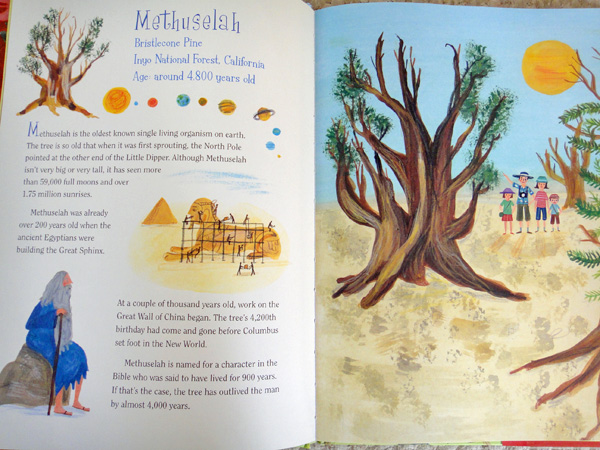 The first tree is Methuselah, "the oldest known single living organism on earth." Preus tells us that at 4,800 years old, it has seen over 1.75 million sunrises and was already 2,000 years old when the work on the Great Wall of China began! That's old. In order to protect the tree, there are no pictures of it. It lives in a grove of many similar trees and is not identified.
Next up is "the biggest inhabitant of earth," the giant sequoia General Sherman. (Follow
this link
to see a picture that really gives you a sense of how enormous the tree is!)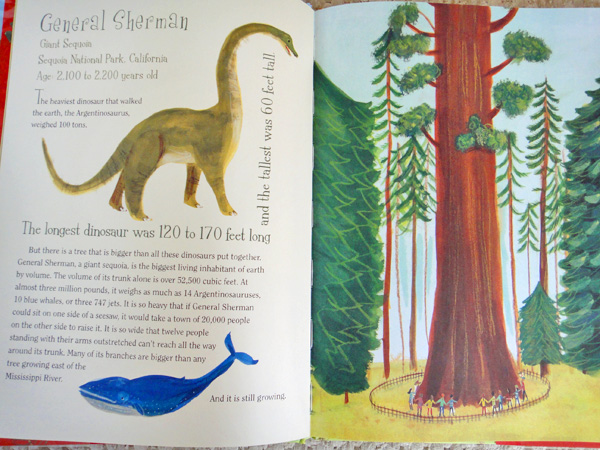 At over 2,000 years old, it's no spring chicken either. Preus explains that many of its branches are bigger than the biggest trees in the Eastern US. It weighs as much as 10 blue whales and, she adds, is still growing!
The Tule Tree in Tule, Mexico is supposedly the widest tree in the world. (Follow
this link
to see a picture of its trunk which is as big as a house!) Its trunk is covered with fascinating knots that resemble animals and monsters.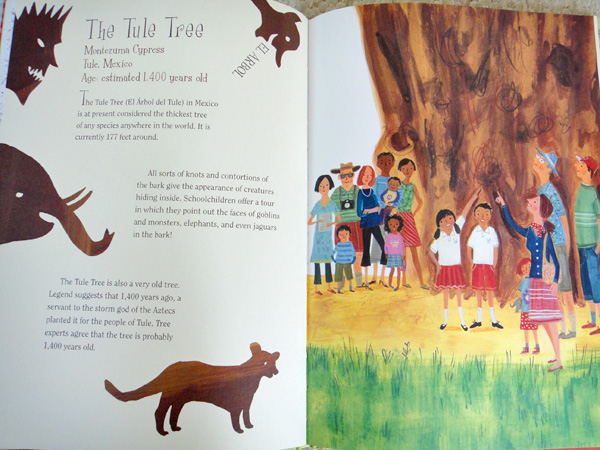 The other trees in the book have interesting histories. The Bodhi Tree in Sri Lanka is about as old as General Sherman but it is not famous for being large.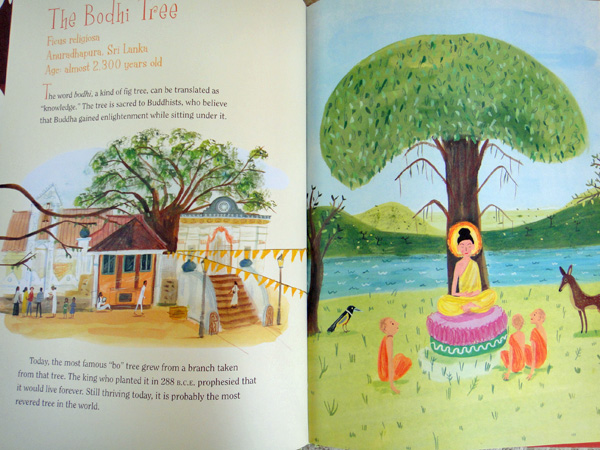 "Bo" is the fig tree under which the Buddha sat when he gained enlightenment. There are actually several Bodhi trees. The original tree was in India. A cutting from that tree was brought to Sri Lanka and is still alive today. (
This website
has some pictures of the tree as it looks now and some thoughts about it.) A cutting from the tree in Sri Lanka was brought back to India and planted on the site of the original tree in Bodh Gaya. (Follow
this link
for a picture of this younger version of the Bodhi tree.)
Next is the Major Oak in the Sherwood Forest of England. It's trunk is large enough to hold 18 people and it may have even provided shelter once upon a time to Robin Hood and his merry men! But today, due to soil compaction and weakening limbs, it is off-limits. (Check out a picture of it
here
as it is now, with many poles supporting it.)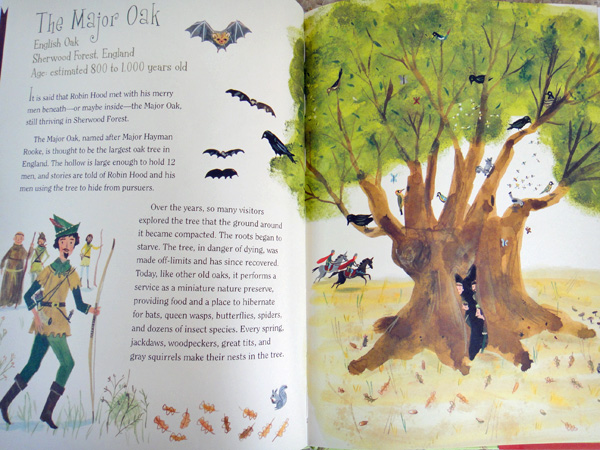 The Chapel Oak is the most curious of the celebritrees, having been turned into a chapel.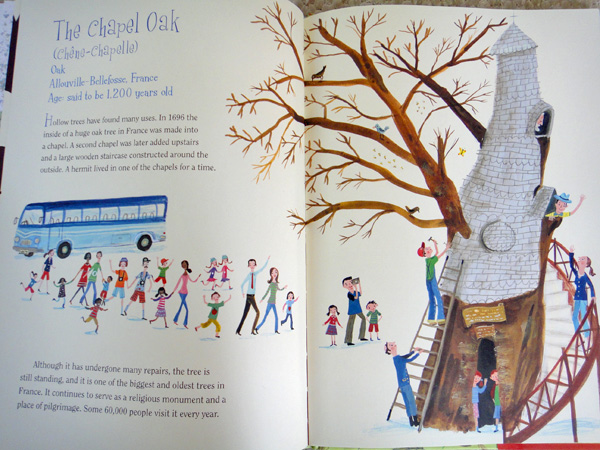 It is approximately 1,000 years old. In the 1600s, it was struck by lightning, which hollowed out the trunk. (Preus tells us "Never stand under an oak tree during a lightning storm. The oak is struck by lightning more than any other kind of tree.") It became a shrine and then a chapel. (Pictures of the Chapel Oak and some of its history can be found
here
.)
Preus details several other oak trees with fascinating histories as well as
the Boab Prison tree of Australia
. But the final trees in the book are out of this world!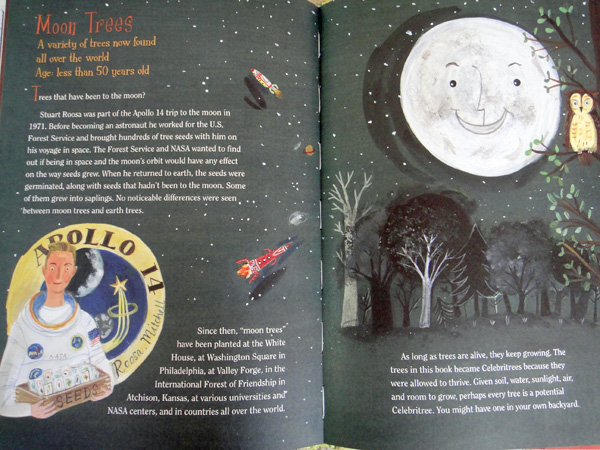 The so-called "moon trees" were grown from hundreds of seeds from five different types of trees that were brought by astronaut Stuart Roosa on a trip to the moon in 1971. (
Here's
a little bit of info from NASA about the moon trees.) They have been planted all over America, including at NASA and the White House, and seem to grow like any other earthly trees. There's even
one in Massachusetts
!
More photos of many of these trees and others mentioned in the book can be found on this web page:
10 Most Extraordinary Trees in the World
.