Since the flowers have fallen off my tree and the leaves have started growing, it just doesn't seem like anything very dramatic is going on out there anymore. It's a little greener; it's a little leafier.
But how much greener is the tree each day? How much leafier?
In order to answer this question, I chose a leaf to measure regularly to see how fast it was growing. I looked back at the pictures I'd taken of other leaves and noticed that I'd actually caught a glimpse of this leaf as it started opening on April 29th.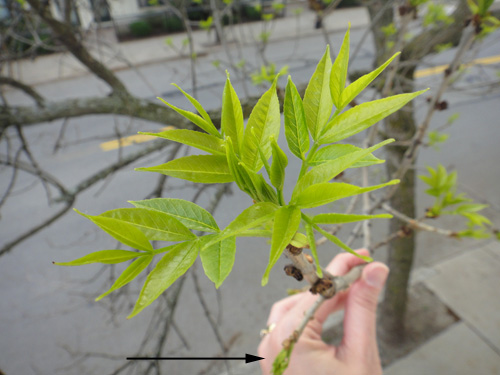 I started measuring the leaf four days later. (Note that this requires a precarious balancing act of me hanging out the window dangling a camera and a measuring tape 15 feet above the sidewalk, so it's a little imprecise. But I think the growth is significant enough for me to get an idea of how fast things are happening.)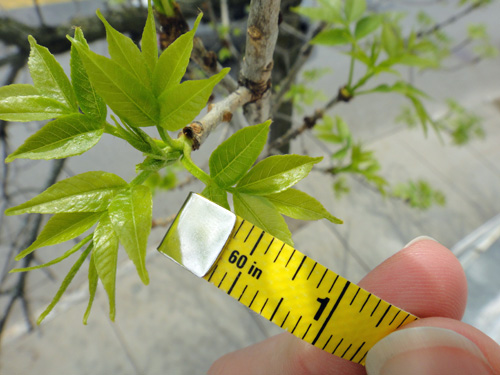 On May 3rd, my little leaf was already 3/4" long. So, since it was still closed on April 29th, that's 3/4" in its first four days.
Two days later, on May 5th, the leaf was 1 1/8". That's 3/8" of growth in two days!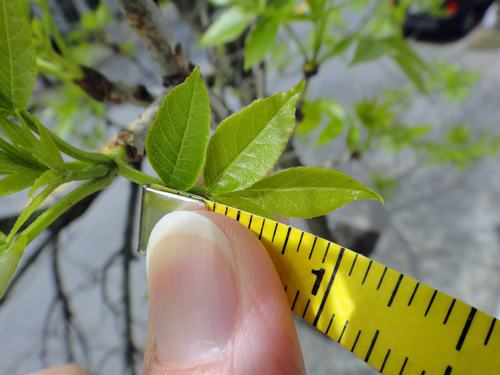 And on the next day, May 6th, I struggled with wind while photographing, but was able to measure the leaf at 1 1/4". That's another 1/8" growth in one day!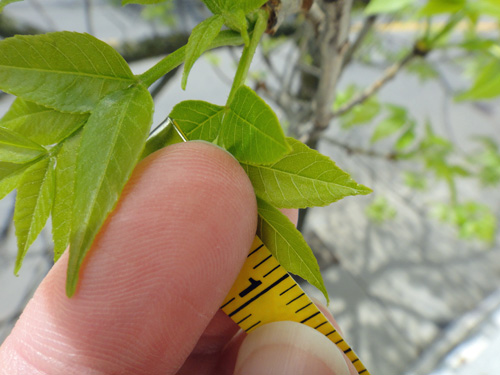 On Mother's Day, May 8th, it was 1 1/2" long.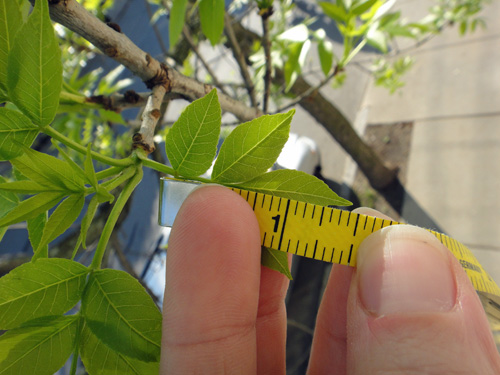 That would be another 1/4" in two days, or 1/8" per day. Pretty steady growth! I'm guessing that the quicker growth at the beginning comes from the leaves first pushing straight out a good 1/4" in a single bud before the leaves even begin to open.
I actually managed to get some pictures of this initial growth elsewhere! As I was taking the picture on the 6th, I spotted a bud below that was just beginning develop. Some of the tiny buds on the tiniest twiglets haven't done anything so far. At this point, I'd kind of assumed they weren't going to do anything, so I was surprised to see that this one was actually starting to push up it's little brown cap and send green leaves out after all.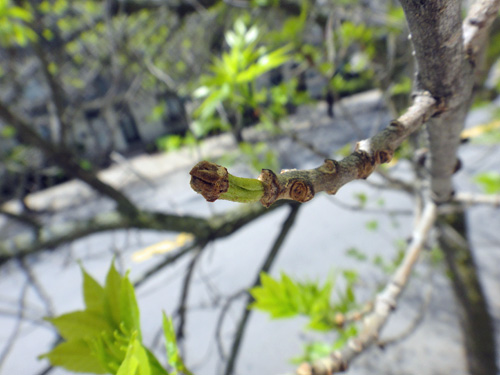 That was taken at noon on May 6th. 25 hours later, at 1pm on May 7th, it looked like this.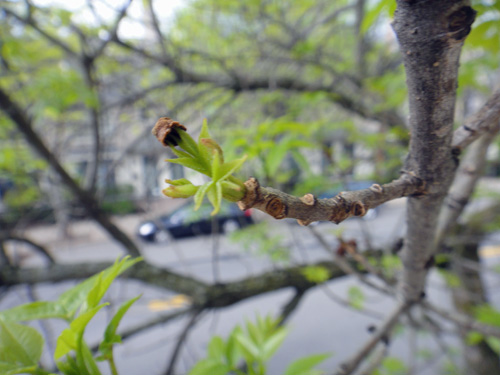 Look at the little bud cap just ready to fall off! A mere 6 hours later, at 7pm on the same day...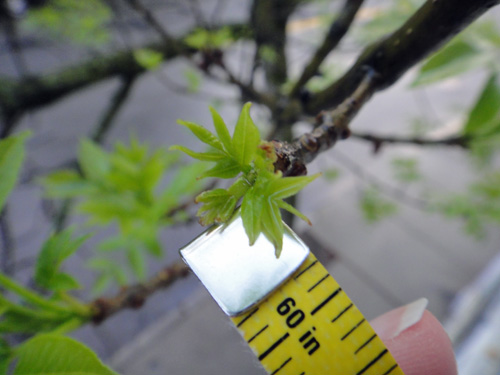 ...the leaves were wide open and measured 1/4"!

That is cool!

Lots more measurements coming up tomorrow....