As we saw yesterday, the leaves on my tree are growing longer, about 1/8" per day. While I was wondering about the growth of the leaves, I was also wondering about the shoots. Are they also getting taller? I mean, the branch is supposed to get longer each year, right?
So, can I figure out how much taller it's growing?
Let's see...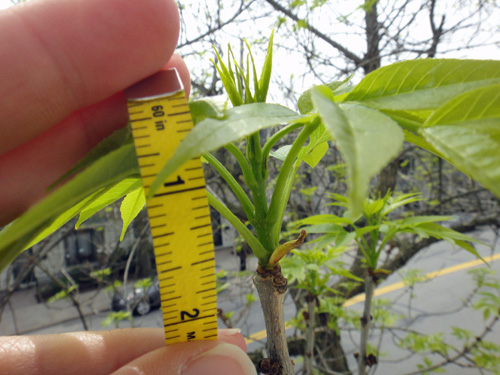 On May 3rd, the shoot at the end of the twig closest to my living room window measured about 2" tall from the tippy top of the center leaves back down to the twig. Two days later, on May 5th...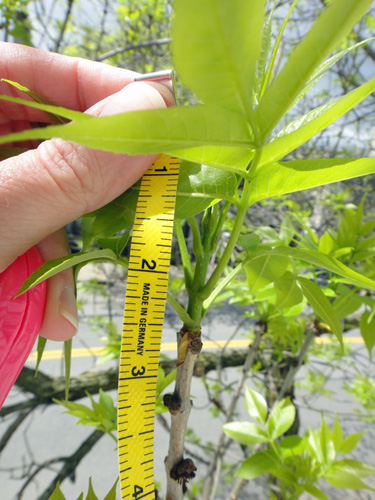 ...it looked to be about 2 1/2" long, although I'm not quite sure I was holding the measuring tape at the same spot at the top. (I do my best to get the tape in place before I get the camera, but it's tricky doing all this hanging out my living room window.)
The very next day (May 6th)...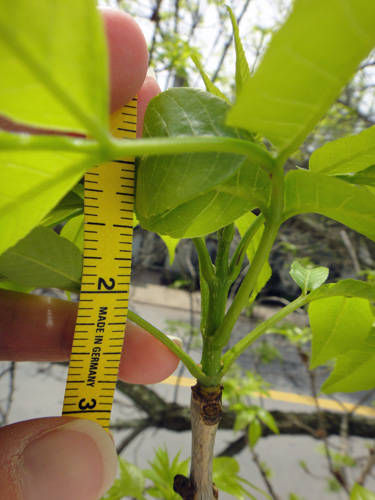 ...I measured it at 2 3/4" from the top point of the leaves to the base. And two days later, on the 8th...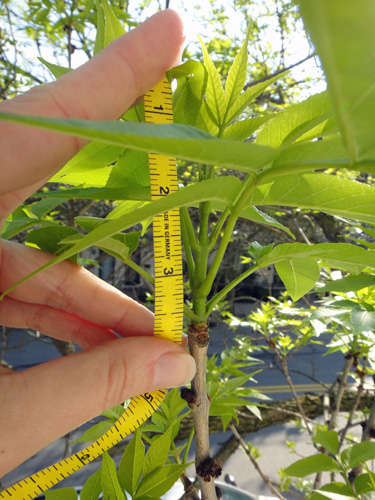 ...3 3/4"?! Hmmmm, that seems like a lot. Suddenly, I'm wondering if I'm measuring the growth of the shoot or the growth of those leaves at the top. I may have to approach this question a little differently....
If I look back at the pictures above and focus only on the section of the measuring tape that is between the spot where the highest leaves branch off from the shoot and the top of the twig, I think I can actually discern some growth in the shoot itself.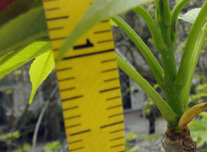 In the picture from May 3rd (above), I count four 1/4" segments, so 1" total height. In the picture from May 6th (below), I can see five 1/4" segments, so 1 1/4" total height.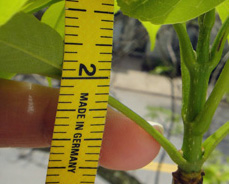 That's 1/4" difference in three days. And two days later, I count six 1/4" segments, which means another 1/4" of growth!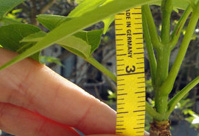 If this is in fact the growth of the shoot, it would mean that it is getting taller about about the same rate (1/8" per day), or perhaps a little more slowly, than the leaves are getting longer.
I will keep measuring this shoot to try to verify this estimate.
But I wonder how long the shoot will continue to grow?
I assume that the leaves will reach their full length at some point in the summer, but could the shoot keep growing beyond that?
When does all this growth stop and the tree start to shift to fall?