After watching S's little bean sprout over the last weeks,
I've started wondering how my tree buds will sprout. I've been thinking of them as spots where new leaves will just pop out. But is that what happens at the buds? If that's so then when do the branches ever grow longer? Is it possible that new branches will shoot out from the buds, with new leaves off of them? Perhaps the new shoots would even push the bud out along the end, like S's bean sprout keeps part of the bean up at the top.
My tree isn't telling me, so I went searching around the neighborhood for some signs of new growth on other trees and I found some interesting things.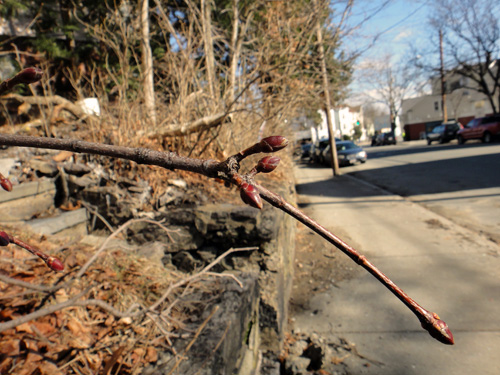 The narrow little branch coming off after the cluster of buds is a lighter, redder color than the rest of the twig. Did that just grow in the last few weeks? It looks really new and young. It's so colorful and smooth. Are those little buds that are all clustered together also growing farther and farther away from that older looking part of the twig?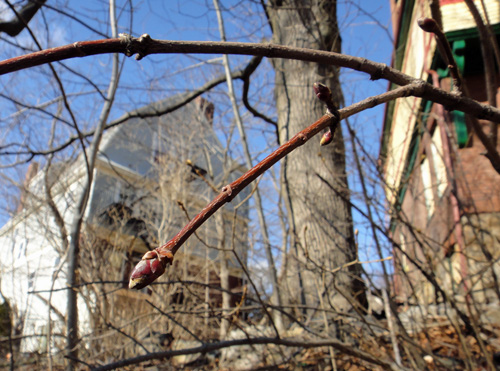 Here's another photo of a different twig on the same tree. You can really see how much lighter and redder this part is. And again there's two other little buds right there where the color changes. It's just as if the twig was growing from that point that is now in the middle.
And here's another little tiny twig I found on a small tree near the one above. The house behind these trees recently burned down and many branches were broken off as the firefighters were battling the blaze. I felt like it would be okay to snap off a tiny twig from the baby tree as it was almost completely severed from it tiny little trunk.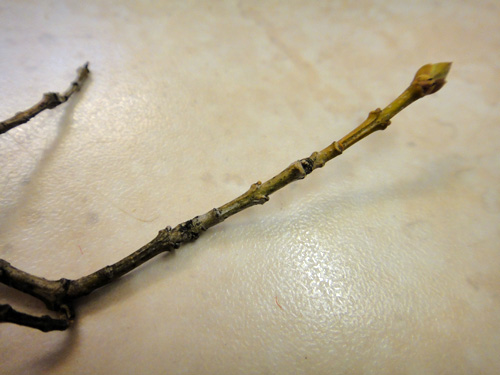 Look at how green the end of the twig is! The bottom part looks like a normal grayish twig, then there are some of those knuckles I noticed on a twig from my tree
a couple of weeks ago
and then it gets greener and greener, and then there's the bud. It really reminds me of that sprout of S's!
Is this going to happen on my tree?
Nothing on my tree looks like really new growth. All the twigs are gray and bark-y looking, with the tips being slightly smoother and whiter. These newer parts don't have as many scars on them from old buds, but they don't look like they just grew this year. Hmmmmm.....
Are all those buds on my tree's twigs going to sprout? That's a lot of buds. Is that why my tree seems to have these explosions of new branches?