The other day
, I noticed that the top branch of my tree was broken. I speculated that it might have broken off in one of our January snowstorms and that there might be some broken branches beneath the snow surrounding my tree. After two days of well above average temperatures, a good deal of snow melted (there's now only about a foot surrounding the tree), and, indeed, a small group of branches has been revealed. Given their location in the snow, I'd say they broke off during one of the last couple of snowstorms that dumped feet of wet, heavy snow on top of earlier frozen snow.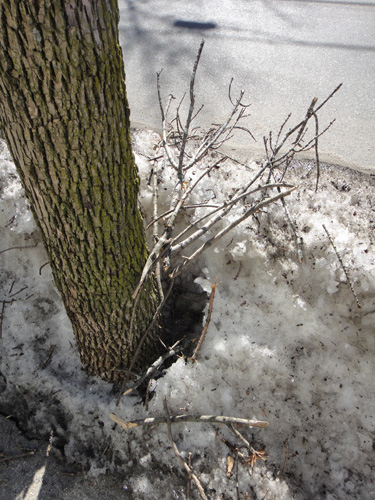 Since this is the city, the nearest tree is many meters away in another cutout on the other side of a driveway. Therefore, I feel confident that these branches did belong to my tree. Furthermore, the largest branch in this pile looks similar in diameter to the branch at the very top of my tree and has the same sort of break on it. I'm guessing that this is the exact bit that broke off up top.
I snapped off one small twig to get a closer look. It's covered with little buds just like the twig I can see out of my window. And look, the buds seem to have little shells that they are coming out of. Or something. They're not just solid bumps on the side of the twig. These, at least, were already developing into something more complex. They're also soft. When I press on them, it's like pushing on the eraser tip of a pencil.
I wonder how close these were to starting to "pop"?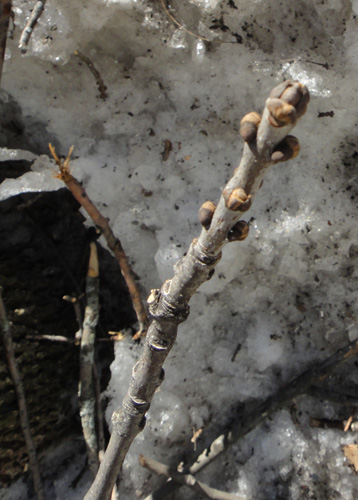 It's a little sad that this twig, ready and waiting to sprout new leaves, has been separated from the tree. But its loss is my gain. I snatched up the little guy to bring inside for further investigation.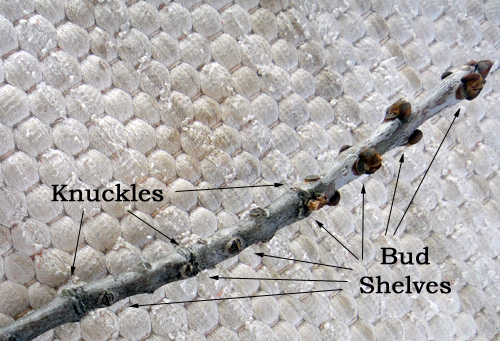 The twig is covered in these dark semi-circular bumps that look like they were the base or shelf under an old bud.
At the top of each bud shelf there's what looks like a cut, maybe where the leaf was connected and fell off?
The twig also has several segments, separated by what look like knuckles.
Perhaps these are from growth each year. Each year, the twig grows longer at the wrinkly, knuckly part?
What a lucky find for me!