After my declaration on
Monday
that my tree is an ash tree, I started looking around on the internet for pictures of ash trees and ash tree twigs just to make sure. When I found this photo on
the blog of a naturalist photographer
, I was sure I had the right thing: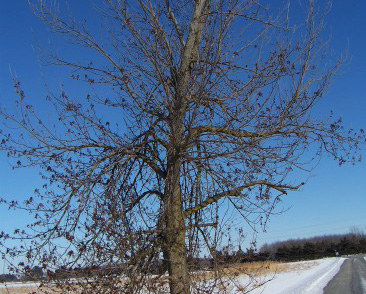 It's the sticky burrs! She called them ash flower galls and said that now that she knew what they were, she was seeing them everywhere. OMG, she knows what they are! Here it was,
the mystery of the sticky burrs
, almost revealed. Okay, are you ready?!
Well, I was right in
my last post
to suspect that the sticky burrs were not, in fact, signs of new growth, but, rather, something left over from the year before. But they are not shriveled up leaves from last year. Oh no, it's way weirder. Galls are growths caused by tiny bugs (eriophyid mites) feeding on and laying eggs in the developing flowers. (Ew.) This causes the flowers to sort of overproduce and you get this swollen growth. (Yuck.) They do not harm the tree. (Phew!) And they can hang around for a couple of seasons, which explains why they look so brown and dried up and why my tree probably has fewer than some other trees.
This site
gives some more details on ash flower galls and
this one
is a more scientific look at the galls and the mites. But I like
this little entry
from a lawn & tree company in Kansas City that reassures ash tree owners (and watchers, like me) that the galls are really just a cosmetic problem. (Hey, who you calling ugly?)
The discovery of the ash galls led me to learn another fascinating thing about my tree. I have a BOY ash tree. Who knew that trees were boys or girls?? Apparently, ash trees are
dioecious
, which means a single ash tree will produce either only male or only female flowers. And these little mites only eat and grow on the male ash tree flowers. So, not only was I wrong about the sticky burrs, but I was also wrong to declare my tree a girl
back when I introduced her
, um, him to you.
Well, consider my little tree-observing world rocked.