Story time! This week on the tree blog I asked a lot of questions and made some amazing discoveries about the mysterious sticky burrs on my tree, so I thought it'd be appropriate to read a story about a sticky burr. This week's book is a comic book that my two 9 year-old boys love:
Sticky Burr: Adventures in Burrwood Forest
by John Lechner (which has a sequel
Sticky Burr #2: The Prickly Peril
).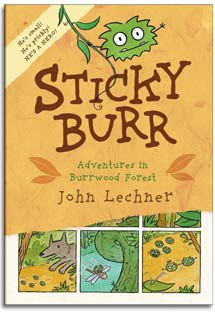 The first book opens with the definition of sticky burr. Finally! I keep using that word because that's what the flower galls in my tree looked like to me, but I couldn't quite say exactly what a sticky burr was.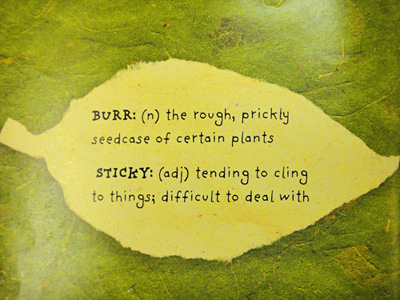 The story is about one sticky burr in particular, the aptly named Sticky Burr.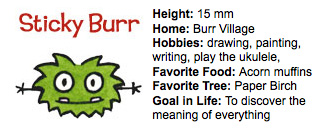 Here he is to tell us some more about sticky burrs.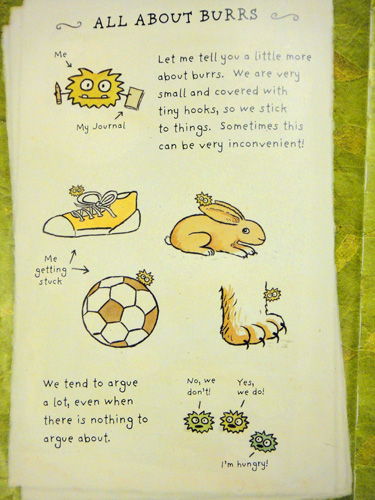 Turns out sticky burrs are prickly in more than one way. They also argue and some of them like to be mean and snag on things to annoy other animals. Sticky Burr, however, is a good burr.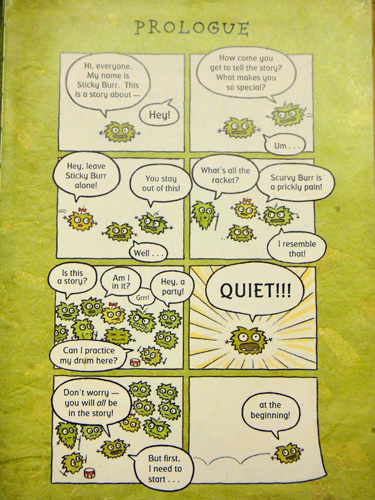 So this is the story of Sticky Burr, who has an adventure. He and his dragonfly friend, Draffle, fly to the legendary Maze Tree.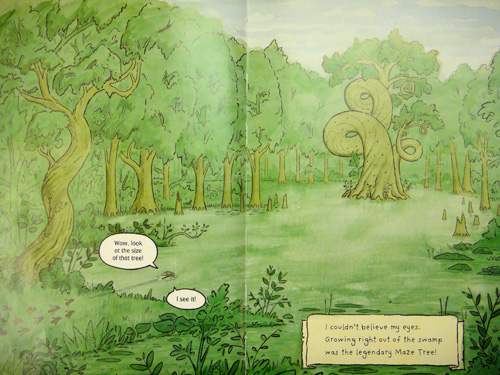 Cool tree, huh? Sticky Burr's friend, Walking Stick, will now tell us a little something about trees.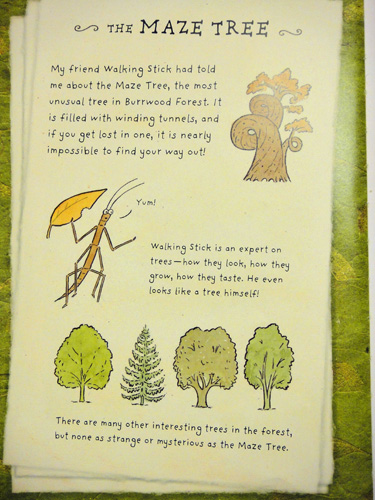 So Sticky Burr gets lost in the maze of holes and tunnels in the maze tree, but he's a clever burr, so he manages to find his way out and rescue a group of lightning bugs along the way. They, in turn, come and rescue Sticky Burr when mean old Scurvy Burr tries to kick him out of the forest. Hooray. Turns out Sticky Burr got into a sticky situation with a tree once before.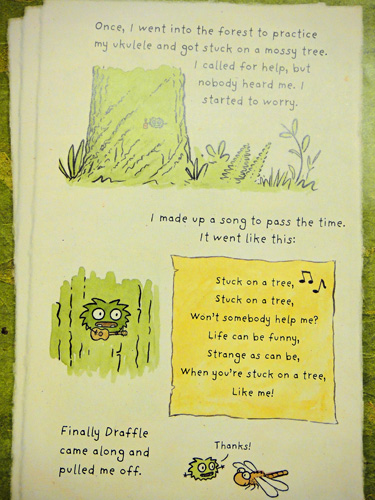 Oh yes, there's music for this song too! In fact, the music is in the book. And there's a TON of other things on
the Sticky Burr website
. There's
a map of Burrwood forest
,
a series of comics
, which were the inspiration for the book,
a journal written by Sticky Burr
,
some activity sheets
like this one of sticky burr in the maze tree....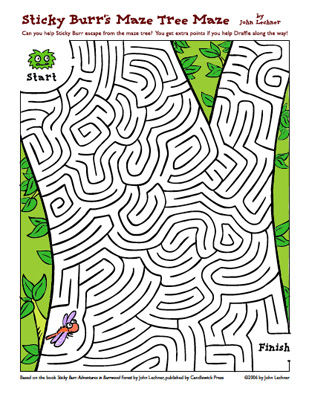 And there's
a movie
! It's so cute. You gotta watch it. Seriously, go now.
So, that's the whole Sticky Burr empire. Who comes up with a whole sticky burr empire? The author, John Lechner, is obviously unbelievably creative and all his work seems to focus on the natural world. Check out his own blog,
the Untended Garden
, where he explores nature in books, art, films and new media.