Time to check the buds on my tree.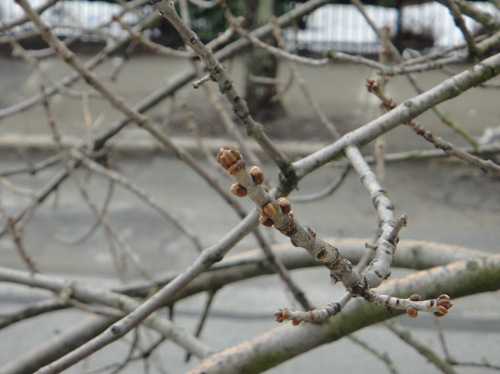 I so want to think that that one is cracking open, but I'm not sure that that bud hasn't looked like that the whole time.
Here's another bud.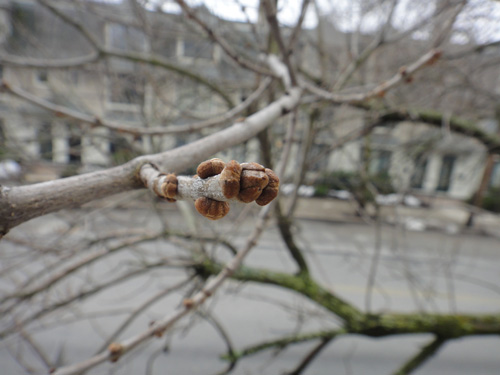 You can see that each of these terminal buds has two big, plump looking buds on either side of it and, if you look real close, it even seems to have a little top wing and bottom wing.
Are they pulling away from the center bit? Is the center maybe growing away from them? Will those top and bottom wings become big plump buds too? And how is all of this going to make a flower? Or a leaf?
Here are some buds on the twig I'm watching.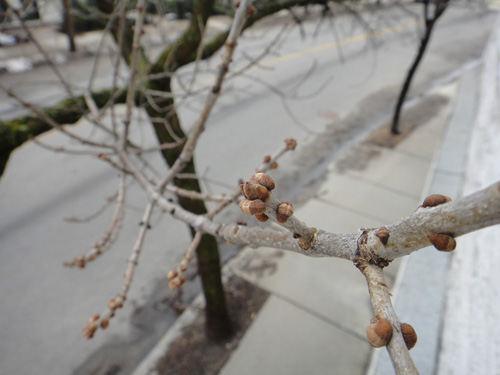 You can see here that there are some color variations within the bud itself. The big, plump side buds are darker brown on the edges and a lighter beige in the middle.
Is this bud-set further along in its development than the one above?
The two little wings do seem farther away from the terminal bud in this set. And even the buds on the side of the twig here seem to show this color differentiation. It almost looks like a nut, when you crack it open and the darker outer shell reveals a lighter nut inside.
Is that what's happening here? Is it opening?

And is any of this really a change from before?
Here's a zoomed-in section from a photo I took of my tree in the middle of February before I figured out how to take awesome close-ups.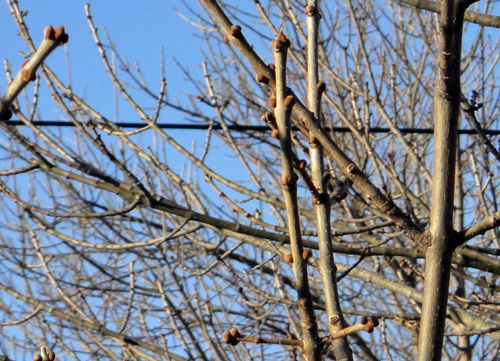 These terminal buds might be a little pointier, but the buds right next too it look pretty plump and the side buds look like they could have that lighter-colored center.
And here's a section from a photo I took of my twig way back when I began the blog.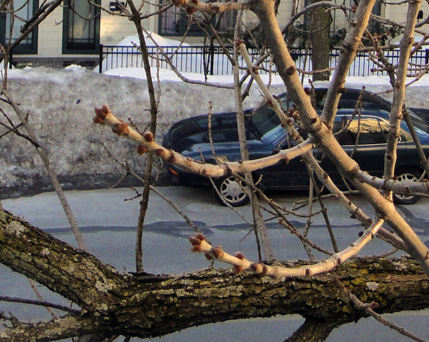 Looks really similar. I wish I could say there are some real changes here, but I'm just not convinced.