Here's a little tree I walk past every day as I walk my boys to school.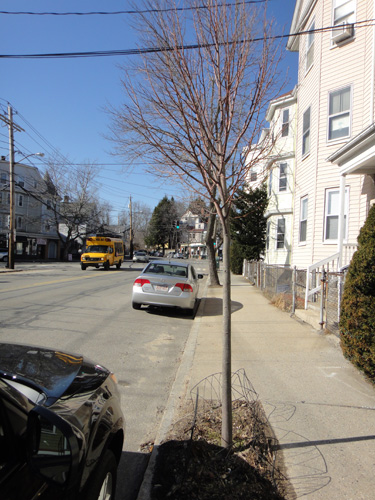 It was planted last year after the tree that used to be here was finally removed (it hadn't been growing new leaves for a couple of years). The tree is just so darn cute! And it's short enough that I can reach up and grab hold of a twig to get closer look. So I did just that. After about 5 minutes of observing and taking the following pictures, the owner of the house next to the tree called out the window: "Hey, Alison, what'cha doin' out there?" Oops, busted.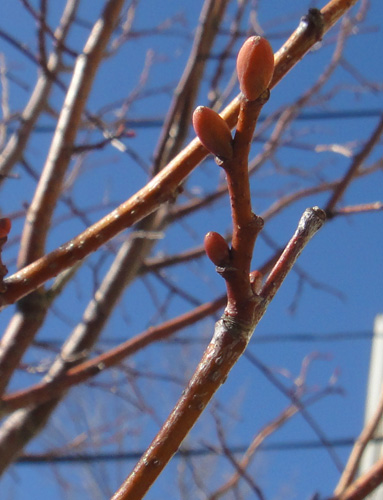 It was so worth it though. Just look at those fabulous oval peachy red buds! Beneath each of the buds is a little scar from where the leaf from the last season fell off. And that's where the new bud grows. Talk about healing! If you look at the bottom of that tiny stem the three little buds are on, you can see some gray ridges. My teacher tells me that that's where the growth from the previous season ended. It's a scar made from the new bud pushing out of the tip there. (I noticed a bud on my tree
the other day
that had me asking this very question!) If we look down the length of the twig to find the next set of gray rings, we can see how far this twig grew last year.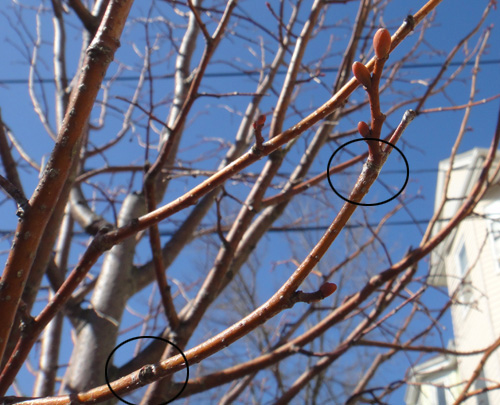 I think this gray bump above this sentence might be it. Wow. I don't even know what kind of tree this is, but it seems to me that that's pretty good growth for such a little tree.
Now let's look at an amazing twig I found on the ground at the kids' school. This twig was so long and so green, I had to take some pictures of it. And it had the coolest buds! They're sort of fuzzy. I'm a sucker for fuzzy buds!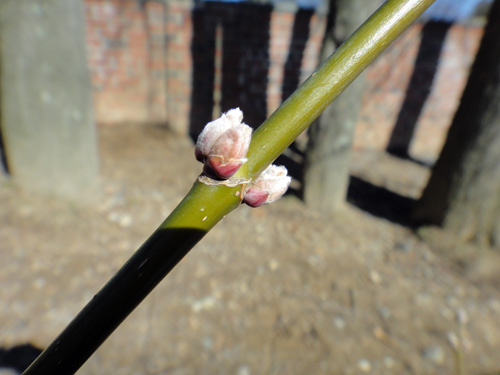 And, lookie, it has those growth scars as well.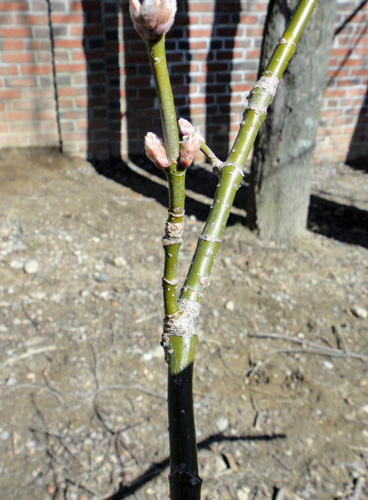 One more twig to investigate before we return home. This one caught my eye because the very tips of the buds looked like they might be green. Leaves, maybe???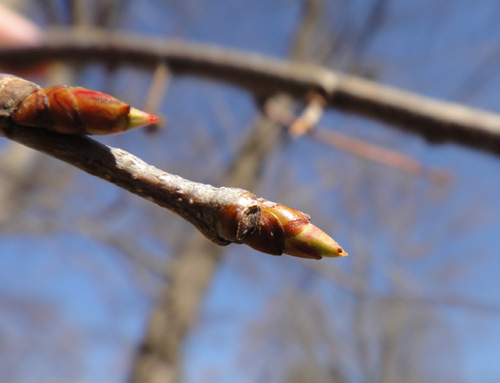 I've got a lot of questions about these types of buds.
Is that a leaf? And if it is, is the whole leaf in there all folded and wrapped up already? And how does that brown part of the bud get wrapped around it like a screw?
I love that there is something so perfectly wrapped and shaped like that in nature.
Anyhoo, the twig...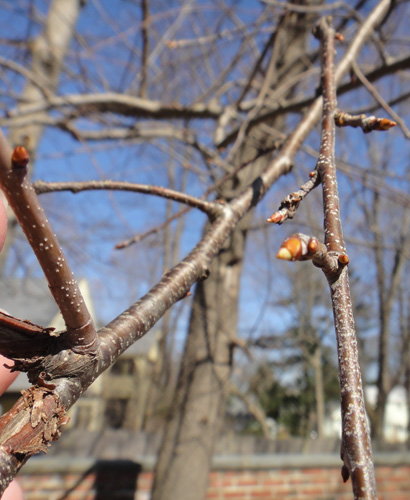 I see one area on the left twig there that looks like the rings of a terminal bud scar. But what really intrigued me about this twig were all the little white dots. My twig has white dots that I really notice only
when it rains
. The other twigs above all have them too in varying amounts. You know what I think? I think those are lenticels, which help the twig breathe. How cool is that?!
For more information on things that are on twigs check out
this diagram
.