We estimated how tall my tree was
yesterday
, but just how big is all that branchy stuff on top (aka, the crown)?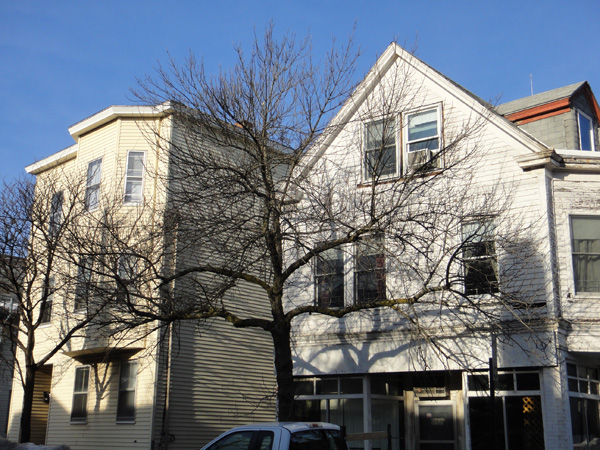 Hmmm, if I could just pop one of my boys up on the roof of that white truck in front, then I could measure one big boy unit in this picture.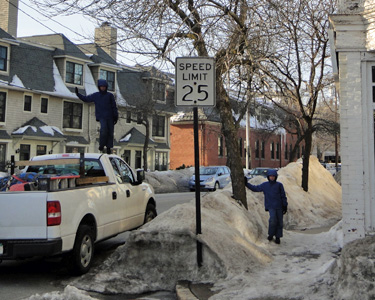 Through the magic of Photoshop, I've moved one boy from the sidewalk to the top of the truck, and it turns out that one big boy unit is pretty much the distance from the top of the truck to the top of the trunk where the branches begin. Result. Now, we pop the boy ruler into the other picture, adjust so he's the right height, and...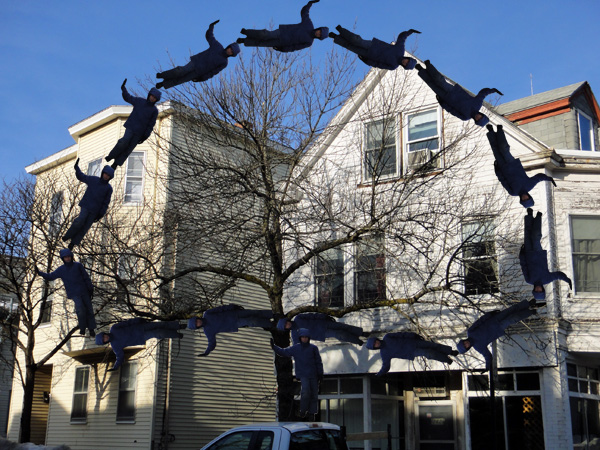 The crown of the tree is 14 big boys around! (He makes a nice tree, doesn't he?) Seriously, that's pretty big. I never realized how wide our tree is. That's probably because only about 2/3 of the tree is actually in front of our house.
Of course, this is the tree's most impressive side. Because of the street and the house, she hasn't been allowed to branch out the other way. I wonder how big all that branchy stuff would be if I looked down at the tree from above. Well, I don't have a blimp and Google's satellite picture looks like it's from the spring or summer.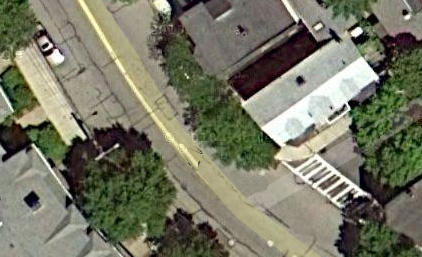 So that won't work. We'll just have to measure the width of the crown from below.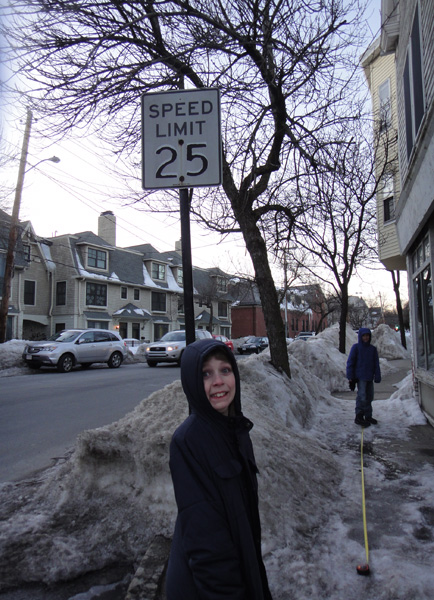 Luckily, I've got two boys. One boy under the farthest reaching branch on one side, one boy under the farthest reaching branch on the other side, tape measure in between. The width between the branches on the wide side came out to be about 35 feet - that was two 16 foot tape measure lengths plus another 3 feet. Our next task - measuring the skinny side - required that someone go out into the street, so I let the boys hold the end of the tape measure on the sidewalk at the side of the house under where the branches almost touch it and I walked backward into traffic holding the tape measure. I got one 16 foot tape measure length out and then saw that I was hindering rush hour traffic too much, so I looked up, estimated that there were still about 3 feet to go and ran back to safety. 16 feet plus an estimated 3 feet of no-man's land makes the skinny part of the crown 19 feet wide.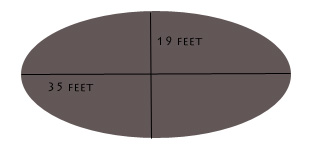 Just one last measurement to take.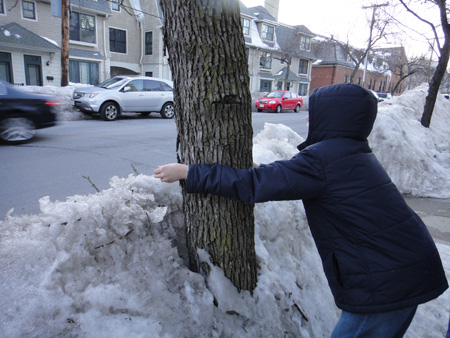 Her trunk is exactly 3 feet around. Well, that was easy.
(Pop quiz: How observant are you? Without looking back, do you remember how fast you're allowed to drive on my street?)