Finally, I managed to take a walk down the street with the camera to check in on the girl ash tree. She is looking quite different than my boy ash these days. My boy tree has no fruit of course, but she has lots of dangling clusters of samaras.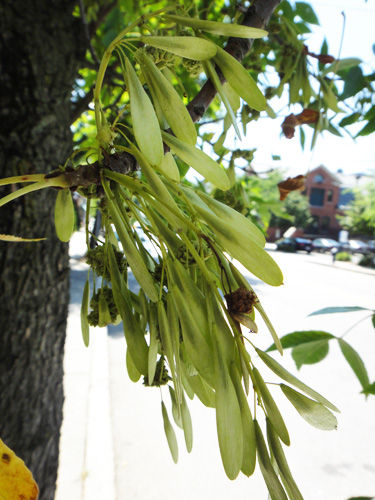 The samaras look a little longer than they did before we left. And there's definitely more of them. There also looks to be a narrow, longish seed inside now. Surprisingly, though, those green balls are also still there between the samaras. I thought they were part of the growing samaras and would disappear. Now I'm thinking maybe they are some part of the old flowers and are just shriveling up.
Another surprise on the lady ash is the color of some of her leaves.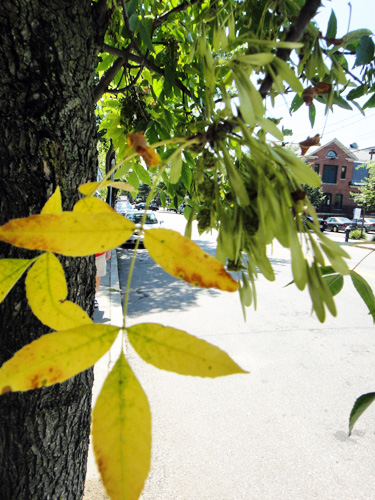 Several of the leaves have turned completely yellow!
Are these leaves dying? Did these leaves perhaps not survive the massive July heat waves as well as the others? Or is this a very early sign of changes to come in the fall?
I imagine that things for the girl tree might progress a little differently than my boy tree as we approach fall. She's got to send those seeds off on their way before she's ready for a long winter's rest.
I wonder if her leaves will change color earlier or later than those of the boy tree. And when exactly will she release her seeds? When are they "ripe"? How will she know?