Recent articles in the
Boston Globe
and our local
Brookline Tab
have reported that a historic elm tree will soon be cut down on the grounds of the
Frederick Law Olmsted National Historic site
.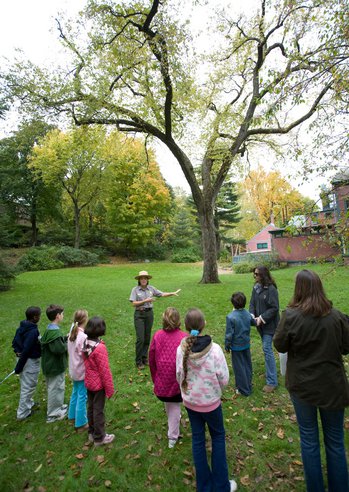 The tree is estimated to be 200 years old, but has been struggling with Dutch Elm disease for a long time. In the past few months, it has become clear that the tree is in decline and could be a danger to the house or visitors. So it will be cut down on Wednesday. The National Park Service website says that a clone of the tree will be grown and planted in its place when it is large enough. The Olmsted Elm has its own
Facebook page
. And there's
an info page
on the tree's history and significance to the site. (For example,
in County Essex in England, where the Olmsted family originated, the name "Olmsted" is a variation of "Elmsted," meaning "place of the elms,"
therefore the elm was a special tree for Olmsted.)
Frederick Law Olmsted is considered to be the father of American landscape architecture, designing New York City's Central Park along with the Emerald Necklace here in Boston. His home was here in Brookline and is a popular destination for school field trips. In fact, my twin boys went on a series of field trips in 3rd grade during a unit on Boston history which included Fenway park, the Freedom Trail, a local beach and the Olmsted site. And guess which one was their favorite. You just can't top nature at its finest!