Okay, let's just get this out in the open. I'm not good at drawing. When my three year-old daughter comes to me and asks me to draw a dog or a lion or something, I honestly tell her that her drawing of it will be much better than mine. Her pictures seem much more meaningful. She draws what she's understood about the thing. Maybe that's just the face of a person, so she draws a giant face and adds a few stick legs and arms. (The Germans have a name for this that I love: Kopffüssler, or Headfooted). When I draw, I have no idea where to start. In some ways, I know way too much about dogs to ever draw a picture of one that is meaningful. In other ways, I know way too little. When was the last time I really looked closely at a dog?
For my investigation of my tree, I am supposed to do some drawing. The idea of these science drawings is to take a closer look, to "see" more. Our science textbook suggests that the primary benefit of drawing in science class is "simply that it takes time. It keeps children in the company of an object long enough for them to become familiar with it."[1] The point of this journal is for me to practice the type of science I'd like to teach, therefore, I'm going to draw. Like my daughter does. What do I see? What makes sense to me? I am encouraged by these words: "Freed from the imagined burden of having to create aesthetically pleasing pictures...focus on the subject at hand and learn about it through drawing."[2]
Alright. Here's a sketch of a small section of my tree, as viewed from our living room window.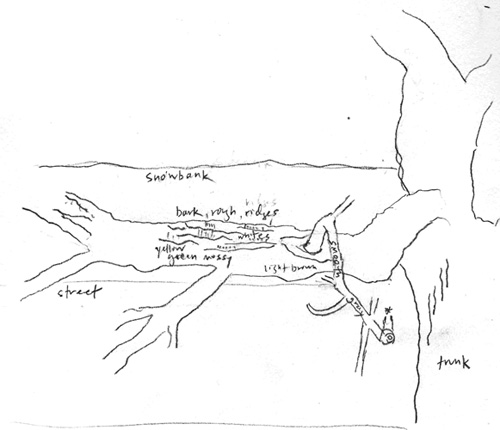 There's really a lot going on in just this tiny bit that I drew. The bark on the trunk and the large horizontal branch is really rough and mossy looking. It looks like it's full of cracks like paint peeling. The long ridges in the bark run along the length of the branch like poorly built parallel streets, rarely straight, but rarely crossing or meeting.
As a part of my tree-watching assignment, I am supposed to pick one specific twig on my tree and watch it particularly in order to get a close up look at the changes that are happening. Sometimes you can't see the twig for the trees, you know! In order to get to know my twig well, I chose to draw it. It extends towards me off the branch I've drawn above at the point I've labeled with a teeny tiny asterisk.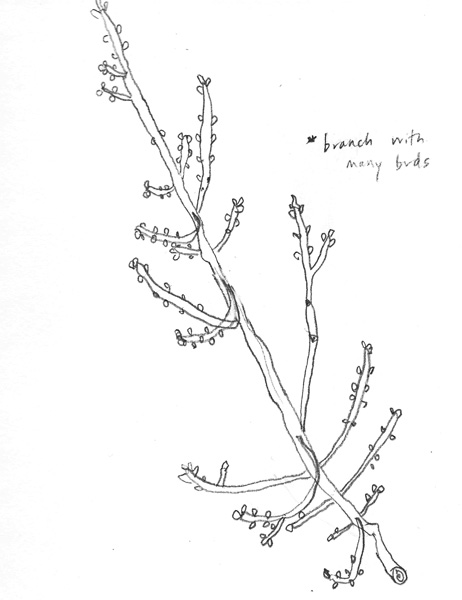 One thing I noticed while drawing this was just how symmetrical the little branches are on this twig. I couldn't get the perspective right, but there'll be a pair coming out on either side from about the same point and then the next pair will be coming out opposite from each other and usually 90 degrees offset from the first pair.
I wonder what causes branches to grow like that.
Our textbook suggests that through drawing, "children begin to realize what they know and what they don't know."[3] I don't know why branches grow the way they do.
Is it totally random?
I did notice that most of the tips of each tiny branch of my twig seem to have three buds - one at the very tip and one on either side. This seems like it could be the reason for the symmetrical branching. The center bud continues the main center branch and the two on the sides become the two new branches going off in opposing directions.
So what happened where there aren't two opposing branches? Was there no bud there for some reason? Why are there some branches with just one or two buds at the tip? Did something happen to the second or third buds there? Did they start growing and then break off?
Now, in case my drawings haven't been quite as meaningful to you as they were to me (my textbook comforts me here a little too: "the sloppy or incomplete appearance of a particular science drawing may belie the role that creating it played in helping [one] to learn"[4]), here's my twig in multicolored megapixels for you.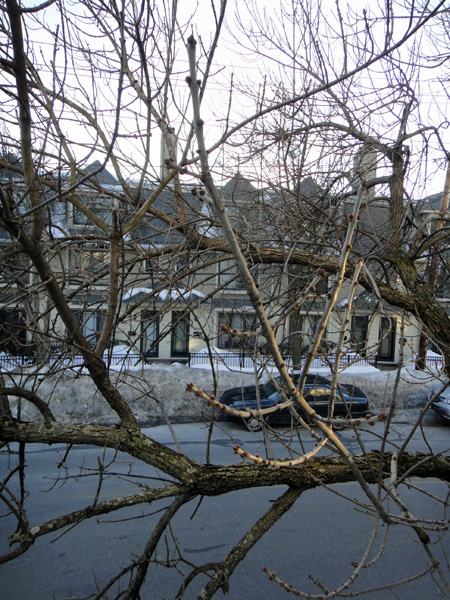 The photo really captures the different color of this branch from the main one. It is also amazingly smooth. I am guessing that it's because this branch is newer and younger. As you move away from the main branches, the smaller branches get smoother and lighter in color.
Will they look like the larger branch there in ten years?
(You might notice that I'm highlighting
my questions
as I'm writing about my tree. I might want to come back to them, so I thought it would be helpful to make them easier to find in a post.)
[1] Doris, E. (2010).
Doing What Scientists Do
. Portsmouth, NH: Heinemann. p. 113
[2] Doris, p. 128.
[3] Doris, p. 113.
[4] Doris, p. 128.