I've been stuck thinking about that one tree I saw on
my Valentine's Day walk
with all the sticky burrs.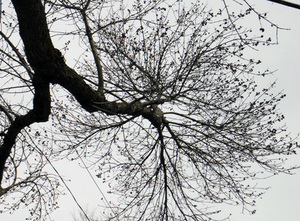 What struck me besides the fact that the tree was crazy looking with all those prickly balls on it, was that it looked so much like my tree, just covered with sticky burrs. The bark was very similar and the branches seemed to grow the same way as well. But my tree didn't have any of those, uh, things on it. Or did it? After a day of thinking about it, I wasn't so sure, so I decided to really search my tree. And sure enough...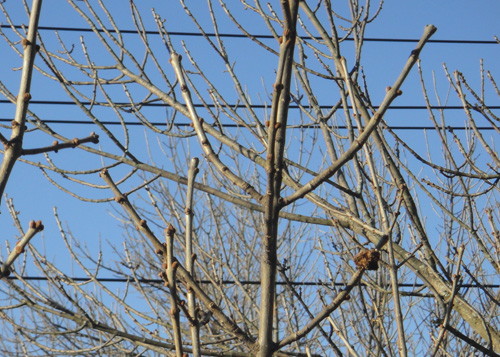 I found two!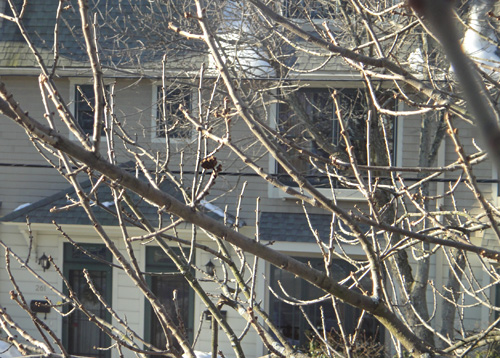 OMG, are more on the way? Is it going to be filled with those things like the other tree?
Now, I was so curious about the sticky burrs and what they might be, I started looking for some hanging low down on another tree somewhere where I could get a better look at them. The other day, I hit the jackpot.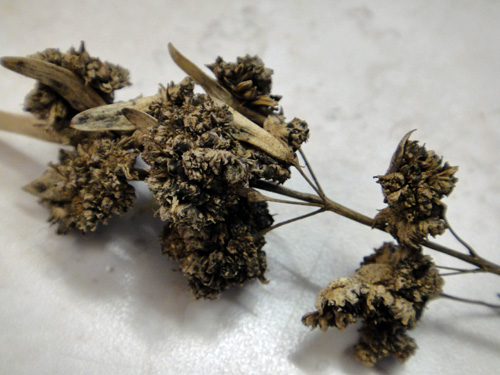 Turns out that up close, they look just like sticky burrs. But then there's this little leaf popping out of them.
Could this be how the buds open up? Are they like popcorn kernels that just burst open all at once?
I kind of thought that buds would unfold all lovelyly like a flower opens. This does not look like it does that. (Note: This tiny twiglet is only about three inches long and each of the little popcorn buds is about a centimeter big.)
So I run upstairs to tell my husband that I think I've discovered something about my tree. I tell him about the sticky burrs and that I think my tree will soon be covered in these popcorn buds. He thinks for a while and then says "oh yeah, it does that."
That. Is. So. Cool.
In the three days since I took these pictures of the first popcorn buds on my trees, I've found six more. They're small and hard to find, but I swear there's a new one every day! It's been really sunny recently. Lots of light. And we had a little warm spell on Valentine's.
I wonder if that's why my tree is getting started with its popcorn buds now.
But why was the other tree already covered in them when my tree only had two?
(Not that I'm jealous or anything.)
Why does one tree get ahead of another? It's across the street. Does it get more light? Is it not about the light? Maybe there's better soil in the sidewalk cutout over there. Maybe it's older? Younger? Maybe every tree is just a little different like kids learning to walk or talk.
I'm so excited that something's happening!