So on this first day of fall, we know
what the ash trees are up to
but what about the other trees?
Well, the maples, which have revealed themselves to be among the first trees to respond to the changing seasons, are really progressing. One maple at the boys' school is almost entirely red!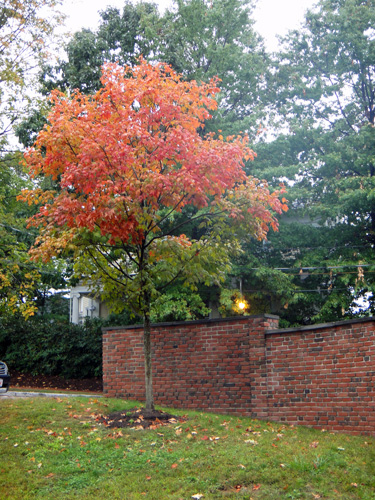 Why is this tree so red? Does a small tree change faster? What gets a tree going earlier than other trees? Earlier even than other maple trees? And what causes a tree to turn red instead of yellow? Is it very individual, like hair color or eye color? Or is it more closely related to the tree species? Maybe this specific maple species turns really red. Hmm.....
The oak trees were among the last to get started growing leaves in the spring. And, no surprise, they are still as green as they have been all summer. I had to look hard to find these three dead leaves on an oak by the park.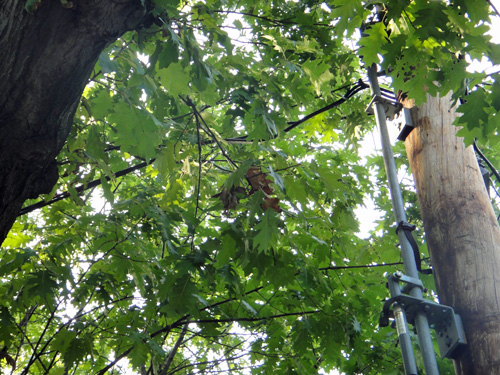 So I'm sensing a pattern here. Early to rise, early to bed. The trees that grew leaves early in the spring are changing colors earlier in the fall.
Am I right?
The
kooky honey locusts
are also still very green. (Hey, they were also very late getting their leaves!) But while their leaves are still green, the seedpods are turning dark yellow and look like they are drying out. They kind of remind me of snake skin after the snake is done molting.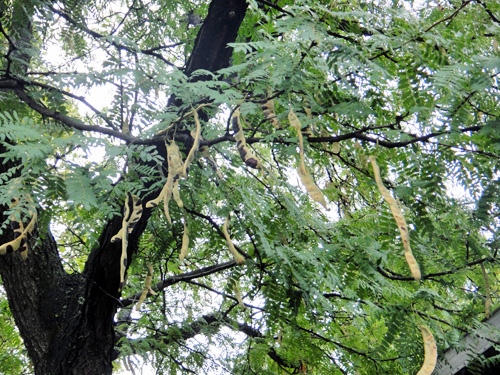 And then there's the chestnut that's been looking like camouflage for the last couple of weeks. Some of the leaves are now completely red and curled up.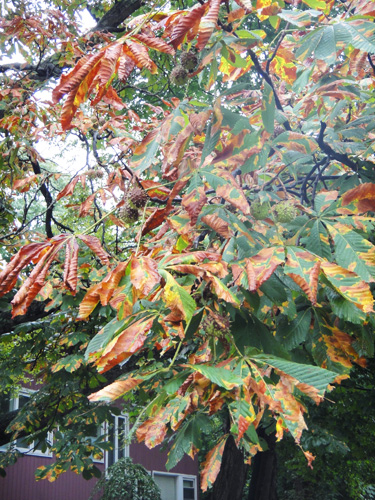 Are those ready to drop?!
What are the trees in your neighborhood doing?