One week ago, Bud - the little maple tree in front of our house - was just starting to sprout leaves. I was surprised to see them come out of the same buds that had produced all the fabulous tiny green flowers.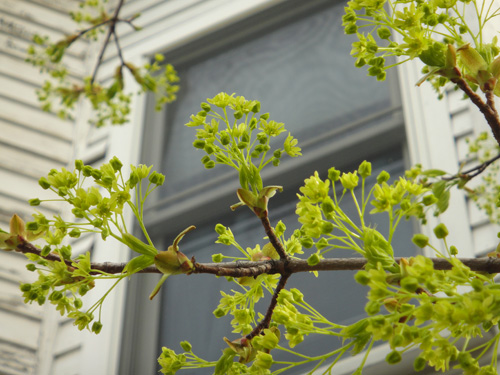 A few days later, I took a peek at the maple down the street where we park our car. It's generally been about a week ahead of Bud, so I was hoping to find some real leaves. And there they were, all shiny and new. They've got that classic maple leaf shape too!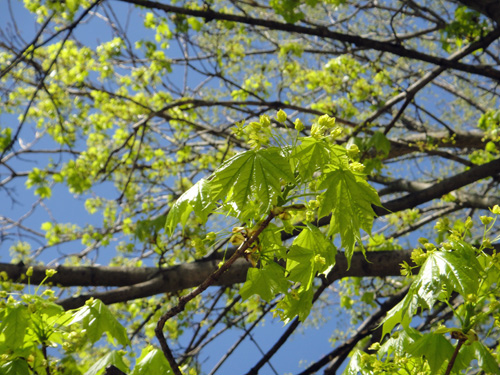 So I knew there would be lovely maple leaves on Bud this week. This morning I went out on the balcony to get a close look at Bud and was not disappointed.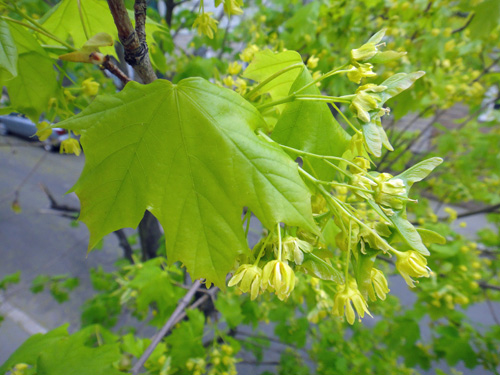 Not only is the leaf fully formed, but the flowers have started to sprout or change into the maple "key" seeds (you know, those helicopter shaped seeds that spin down from the tree). I wonder if all of the flowers will produce these keys?
I was curious about other maples, so I went back to visit a maple I'd spotted on the playground a couple of weeks ago. It's not a Norway maple like Bud or the tree by our parking space. I knew this because it was so red! It still looked like a maple though. The buds looked exactly the same and the flowers were very similar. But where Bud is bright and cheery in lime green, this reddish maple was simply stunning.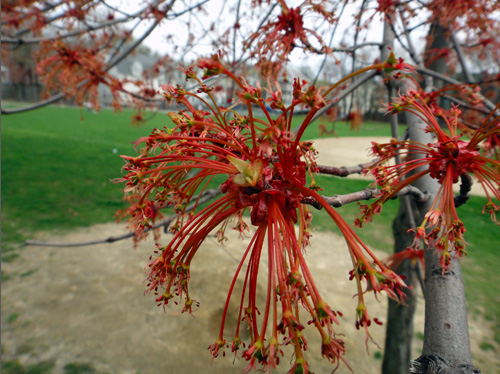 Two weeks later and it looks like this: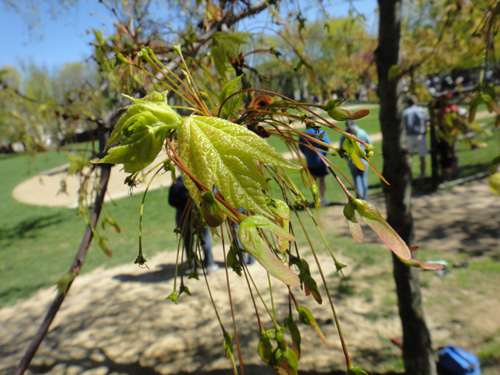 Oh my, all the red's gone. There's a definite maple leaf though and some maple keys. Right next to this maple was another with gorgeous winged keys coming off of bright red stems.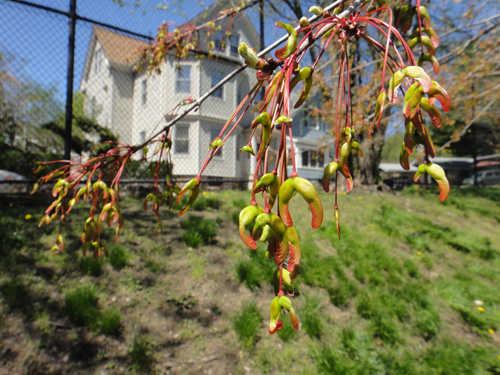 A quick look at the
What Tree is It?
site (can you tell that I love that site??) helped me see the key difference (ha, ha, I made a tree pun) between these two types of maples: the distance between the two wings of the key.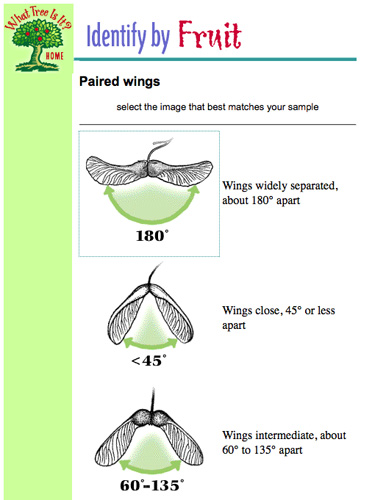 The Norway maples have wings that are widely separated, whereas the playground maples have wings that are quite close to one another.
What tree is it?
says that would make my mystery trees on the playground bona fide red maples!