During school vacation last week, the kids and I went to the Boston Museum of Science (like everyone else in the Boston area). The kids had a great time learning about nanotechnology and models and Mars rovers. I looked for trees.
Downstairs, right behind the crazy mechanical ball contraption, there is an exhibit about scientific classification. I get to tour this area regularly because the boys need a full half hour to fully appreciate the awesomeness that is the mechanical ball machine. I remembered that there were some tree artifacts in the exhibit, so I started my tree hunt in there.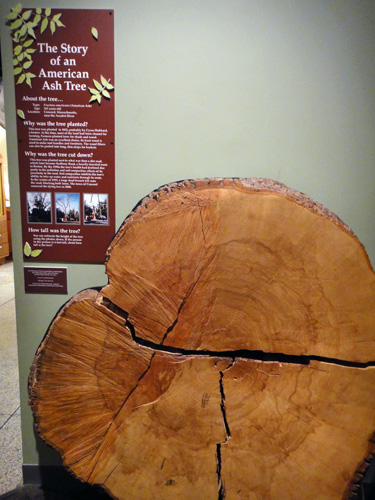 I was interested in this tree because I already suspected that my tree was an ash tree. (It wasn't until
yesterday
that I was confident enough to say that my tree is definitely an ash.) This tree lived in Concord and was 165 years old when they had to remove it in 2000. The tree was most likely planted by a farmer back in 1835 because ash trees are particularly good for providing shade and wood. Because of pollution and soil compaction caused by the expansion of nearby roads, it had begun to weaken and die. It was determined to be a danger to the cars below and was removed. I really liked how they told the tree's story. It makes me think of my ash tree and its life the city.
I wonder how it is affected by its environment - a tiny three or four foot square cut out in the sidewalk. I wonder how many times it's had to be pruned and cut back for safety reasons. I wonder how long it will live before it has to be removed
(like
the trees on the street next to me
).
Also in this area was a little theater with the story of an old oak tree. This tree's story was cleverly presented as an "urban mystery." How long has the tree been here? My little girl didn't want to go in to listen to the movie, so I only got a shot of the sign outside, but I'm sure I'll get a chance to hear it another day.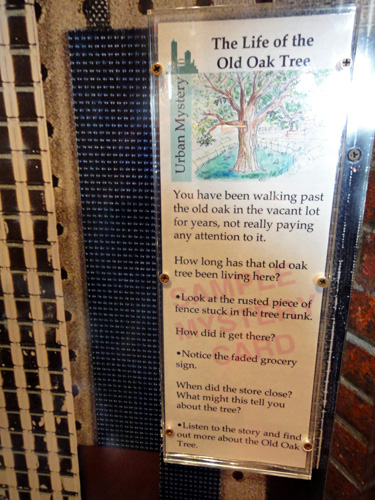 My own tree is just one big mystery to me.
What are the leaves going to look like? When will they sprout? What will the seeds look like? How long has it been here? I wonder if I can figure anything out about my tree's age by looking around my tree.
There was another tree trunk in the kids' discovery center. It was in a corner along with two really great looking books,
Oak Tree
and
Nature in the Neighborhood
by Gordon Morrison.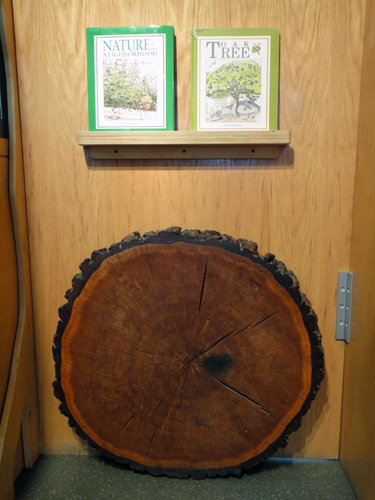 They looked like excellent resources for studying trees and nature in the classroom. Although these are non-fiction books, they sort of tell the scientific story of an oak tree or the many habitats within a neighborhood. There's larger text and simpler descriptions alongside lovely, realistic illustrations as well as smaller text with definitions and more details. Check out Amazon.com for more sample pages.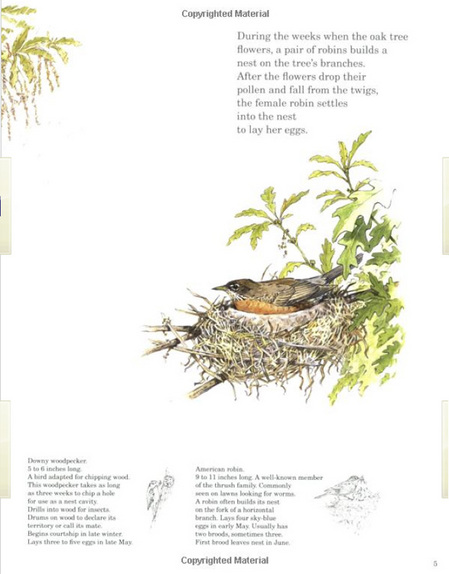 While we were on the way to the science museum, the kids told me that there was an enormous tree trunk in the museum that was like a thousand years old. I doubted that the tree was that old, but once we found it, we saw that it's actually twice as old as that!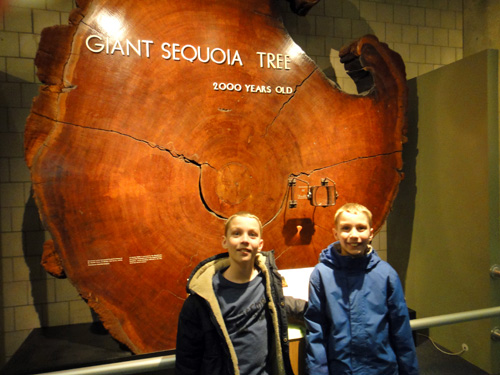 It was planted in like 60 BCE. Now that's a tree that has a story to tell!
The last tree I spotted at the museum was this tree of spoons up by the lighthouse (a room where kids make funny poses in front of a light sensitive wall and then a flash goes off, leaving a sort of shadow picture of their bodies on the wall behind them).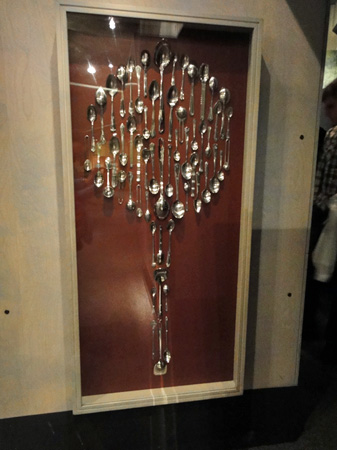 Why is this here? What is it about? Is it art? Is it science? Is it a tree? What is its story? A mystery to solve on our next visit....