With the help of my husband, I've figured out how to take some really close-up pictures of the buds on my tree and they look much more complex than I had perceived before. What appeared to be one simple bud on the tip of a branch now reveals itself to be made up of several different parts.There's a sort of center bud and two darker-colored, um, let's call 'em wings, on either side. Each bud seems to have this structure.
Did these wings used to cover the whole inner bud? Are they pulling away from it? Or are they growing alongside it? Or were they always there and I just hadn't been able to identify them before now?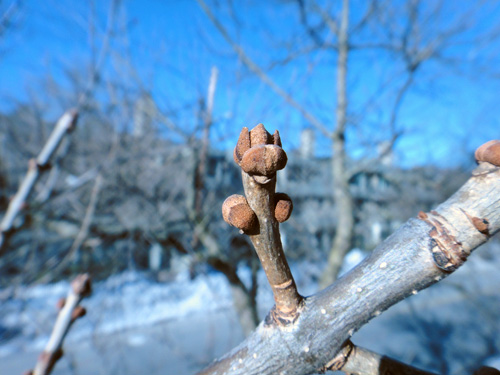 What amazes me is how this whole bud system seems to arrange itself in threes. I've already noticed that the branches coming off the twigs come out in pairs - that is to say, there'll be the center branch of the twig and then two branches coming off of it in opposite directions. Like this: \ I / . Three. Furthermore, the tip of each twig has a center bud and then a bud on either side of it - 3 buds. And now I see that each bud itself is made of 3 little parts, the inner bud and the two wings. Three. It's a magic number.
Is that the key to understanding this tree?
Coincidentally, the buds on my tree seem to be in three different stages. I took a few minutes to draw them.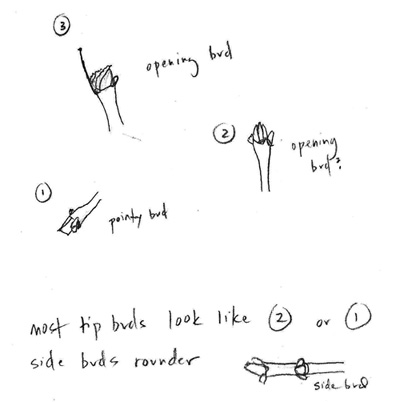 Some of the buds on the tips of the twigs of my tree still look like one single pointy bud (#1 above), but most of the ones I can see near my window look like #2. I'm assuming they're opening. Bud # 3 is the only one of its kind I can see on the tree and it is amazing! From my window it looks like a bud that is either cracking open or being pushed to the side and has something resembling the sticky burr texture inside or behind it. But with the camera, it is even more intriguing.
And the super, mega, ultra close-up is insane.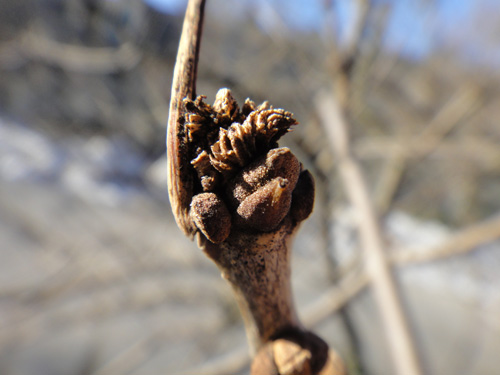 OMG,
What is that stuff in the middle?! Is that the sticky burr thing uncurling? Is that growing from the inside of the bud? And what is that long thing on the side of it? A leaf? Some part of the twig? Did it come from the bud or was it already there?
Wow. And I thought they were just buds.